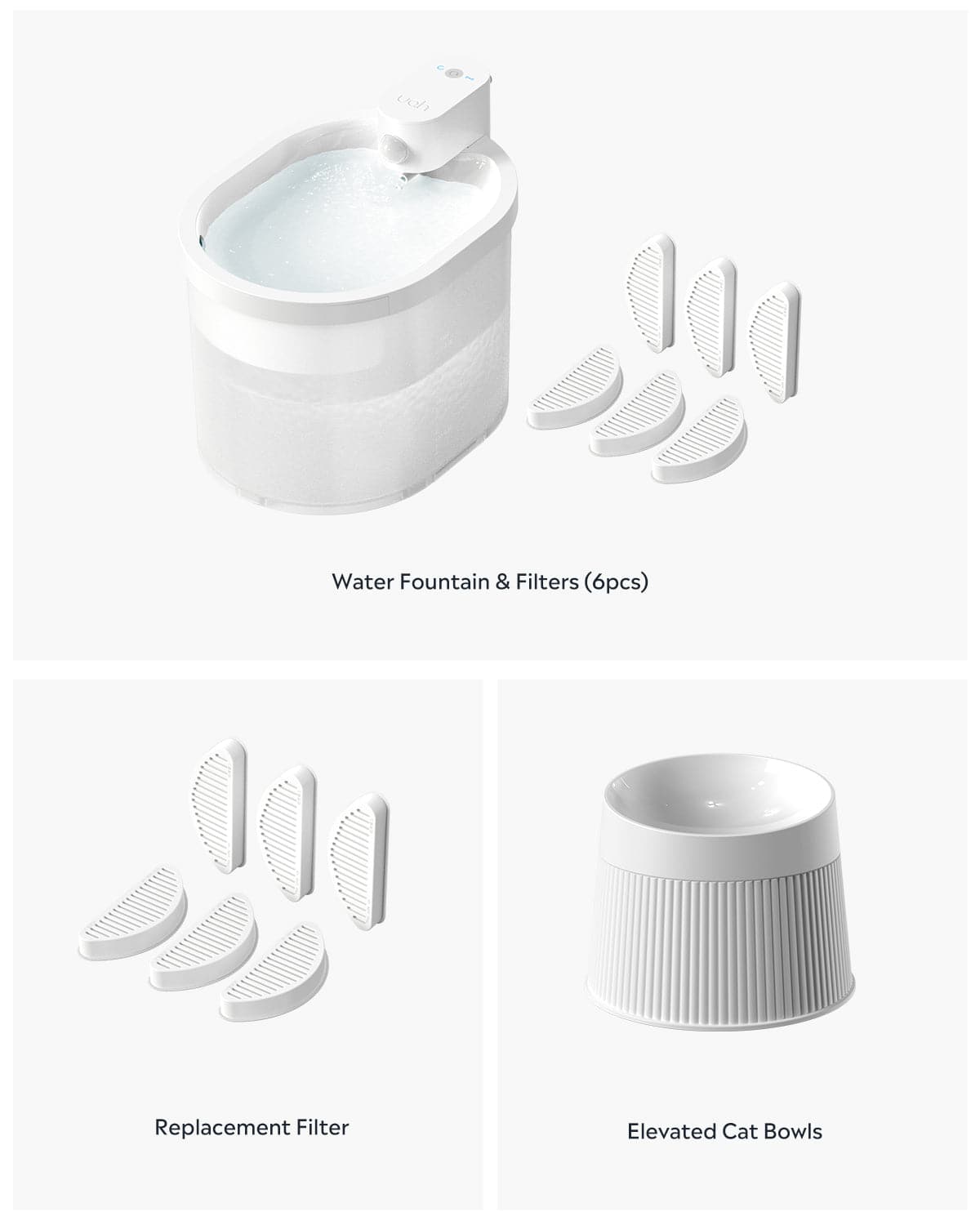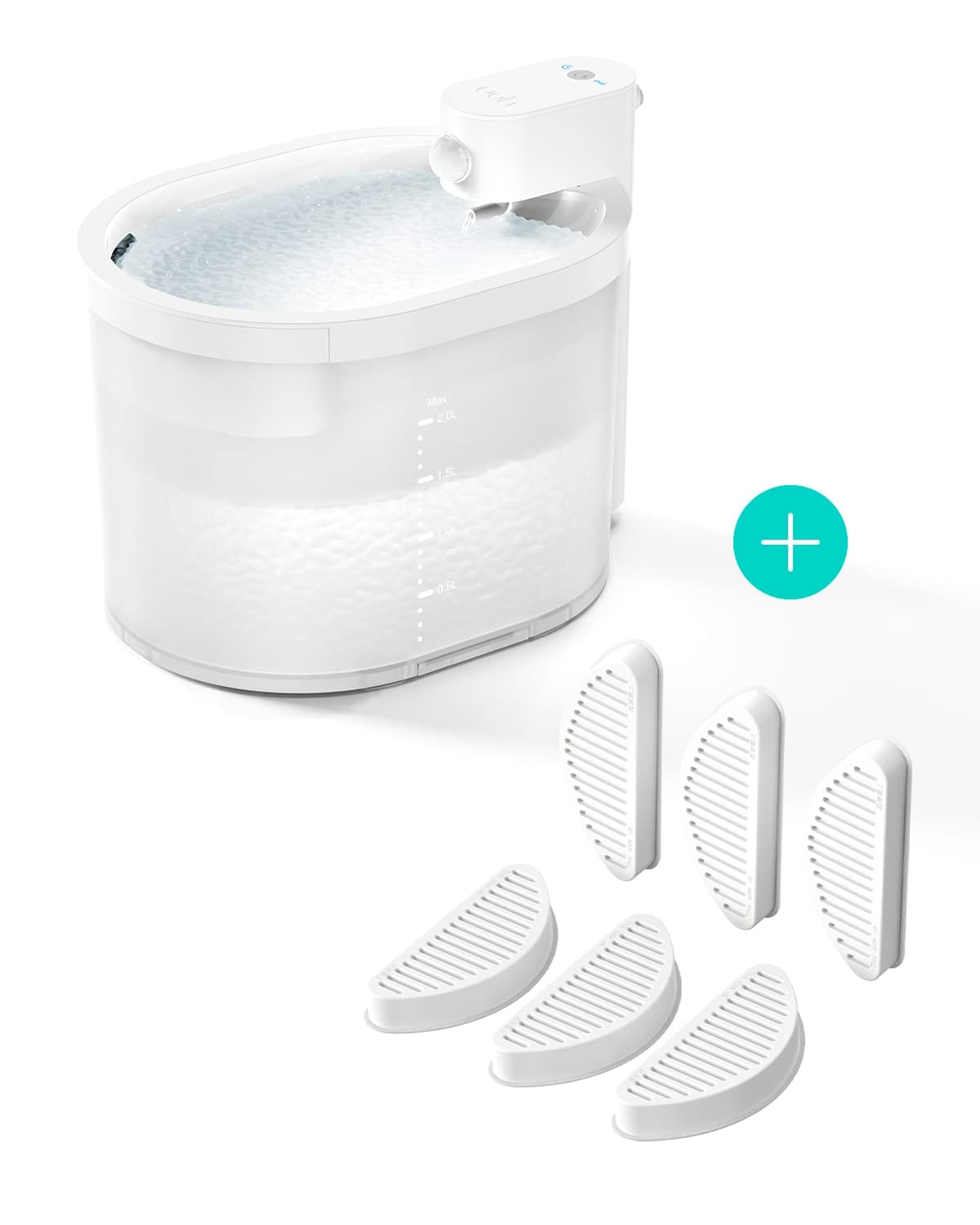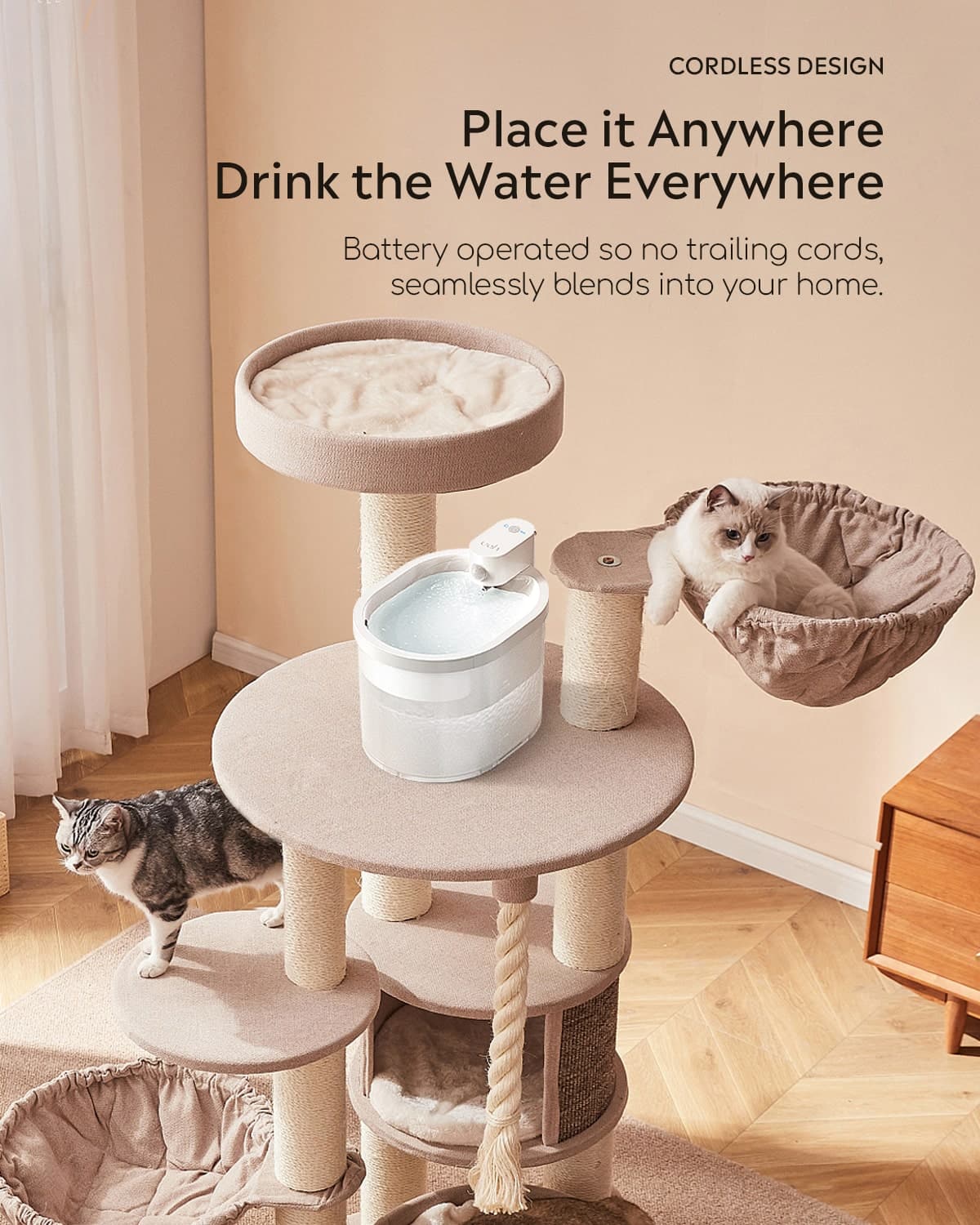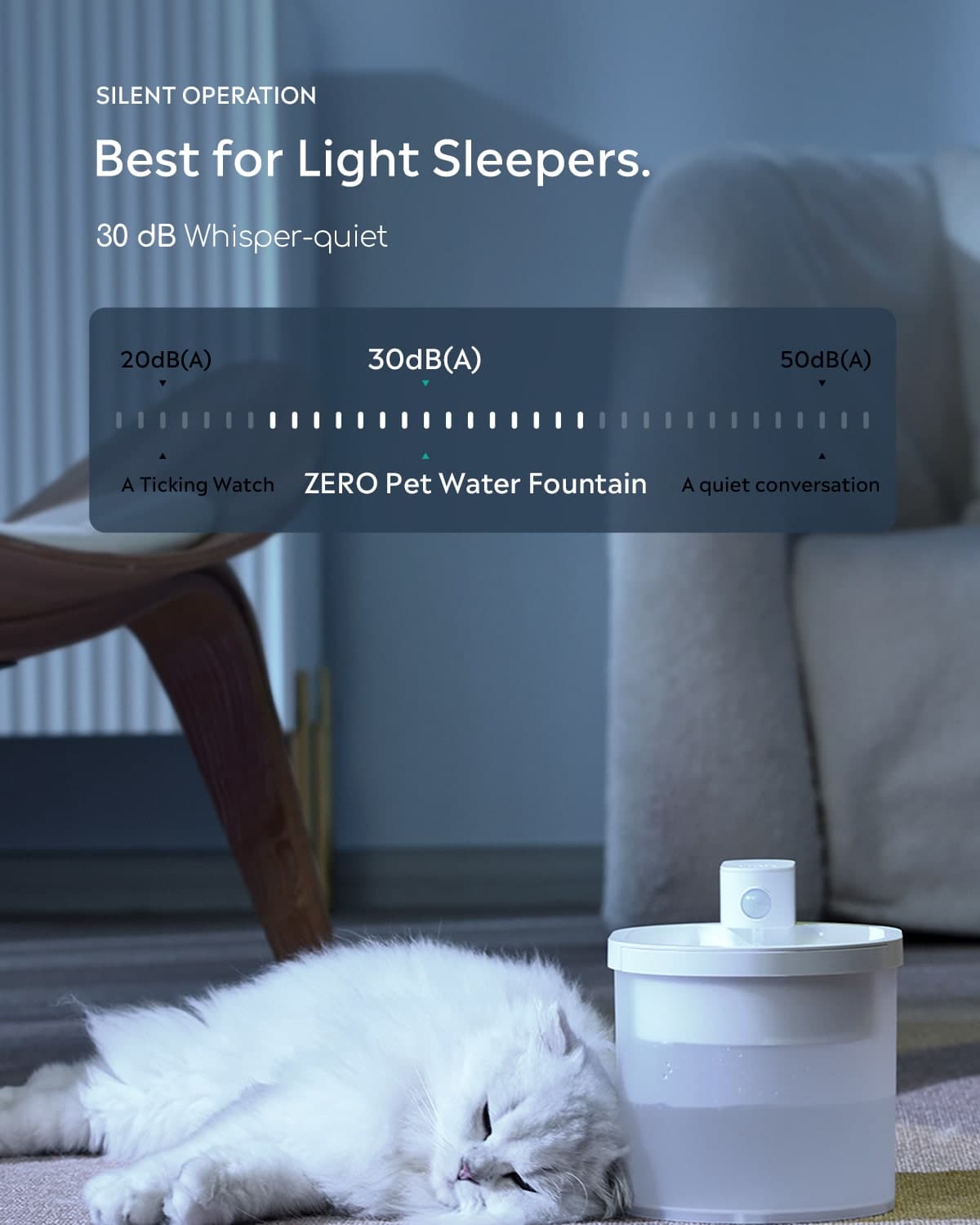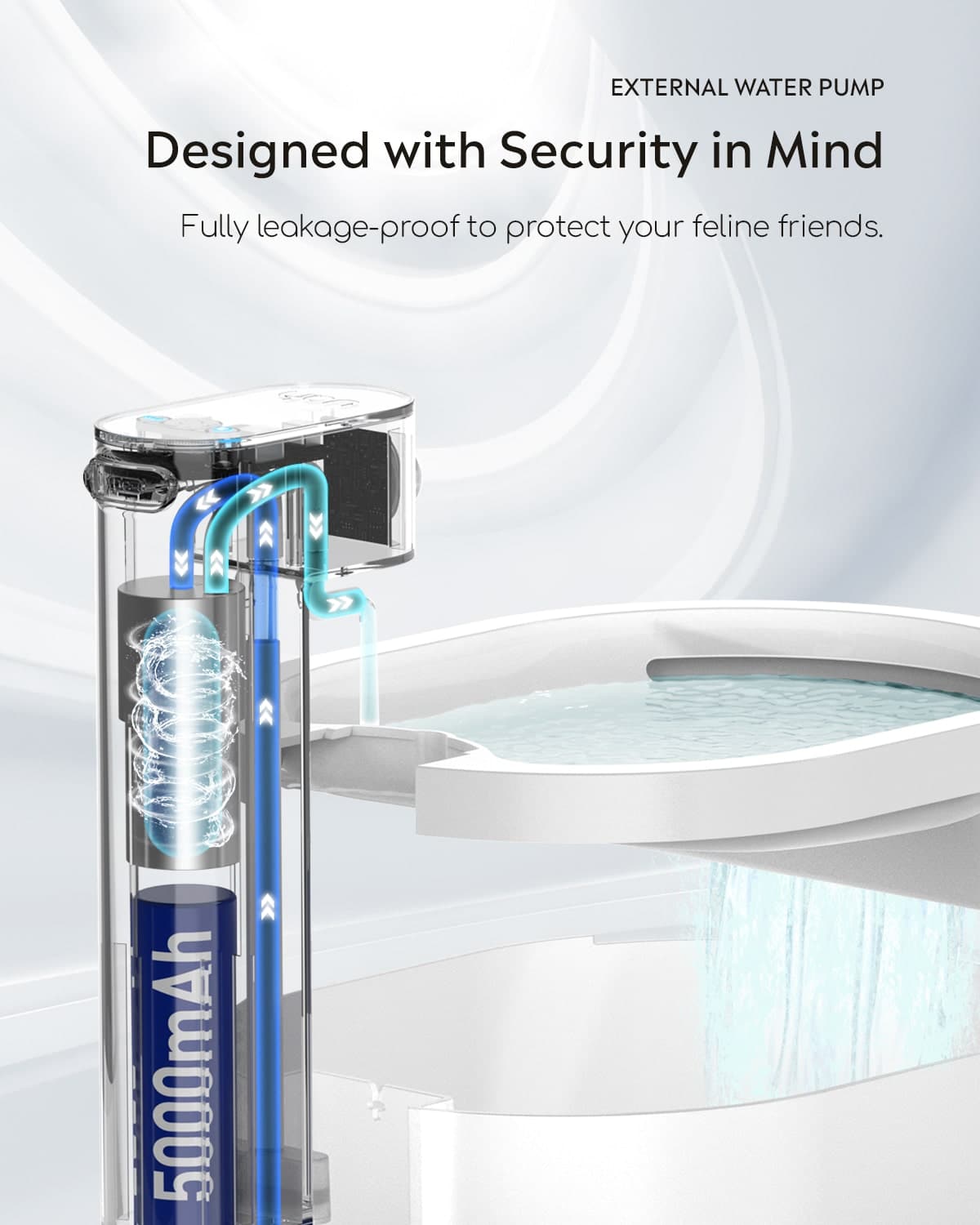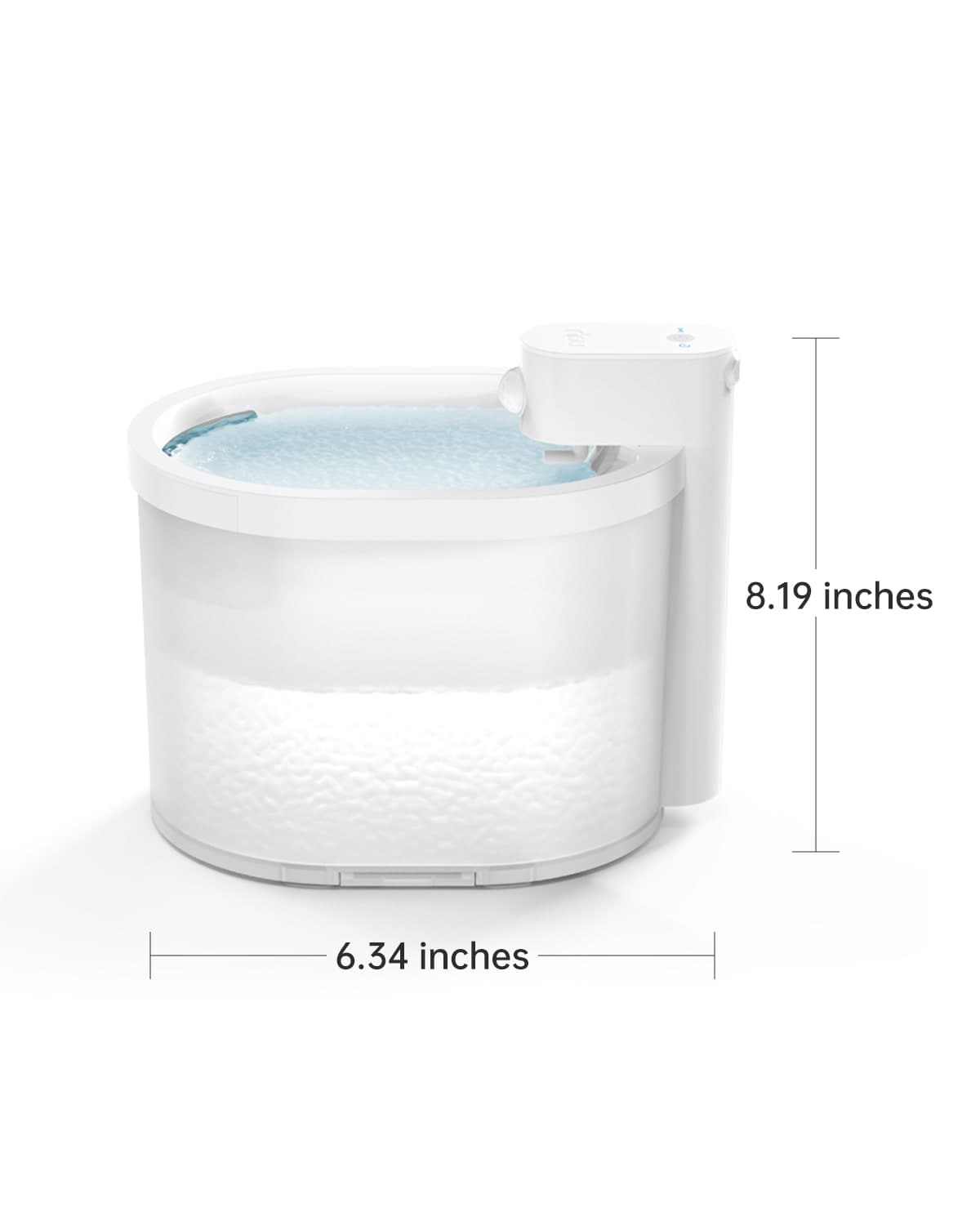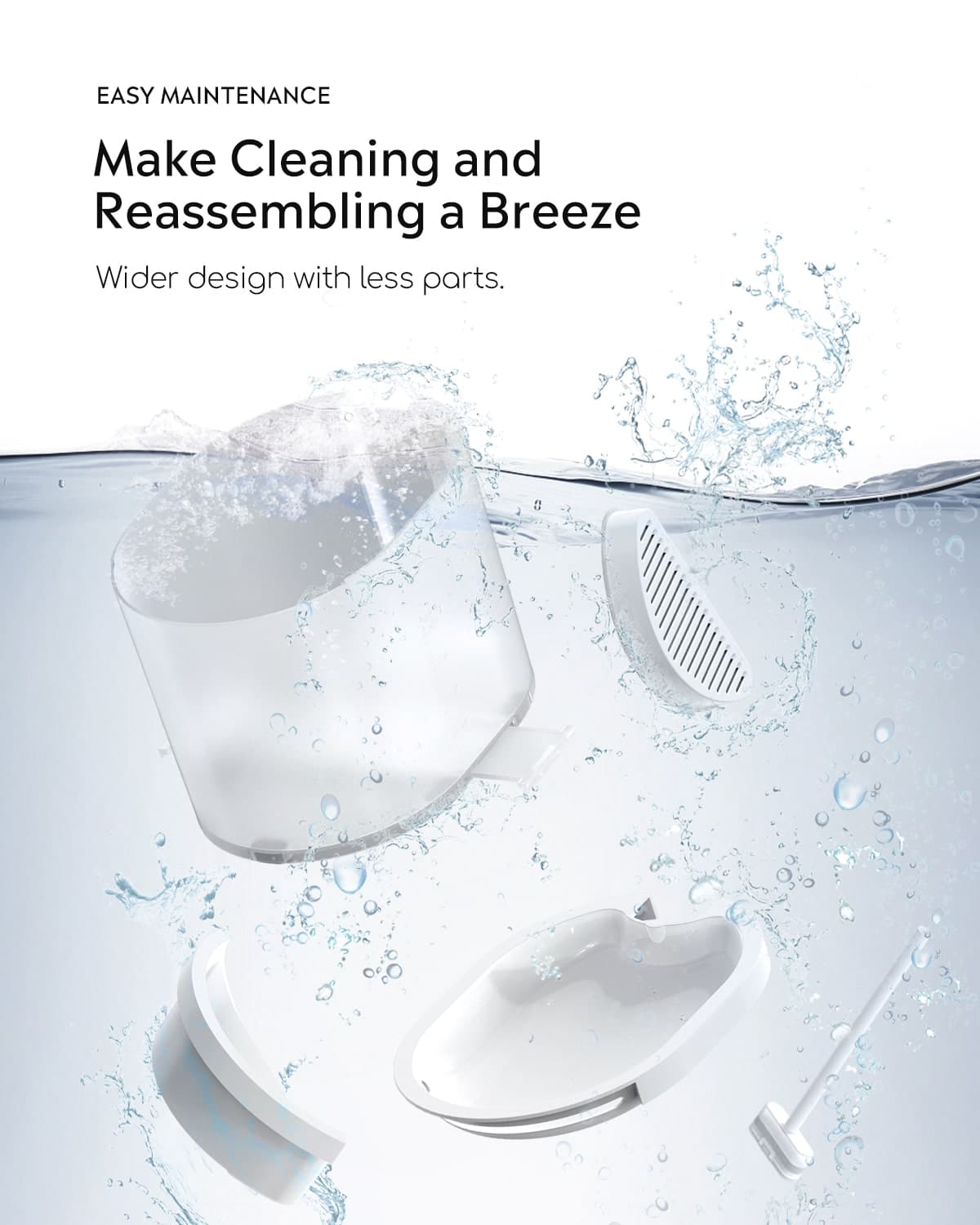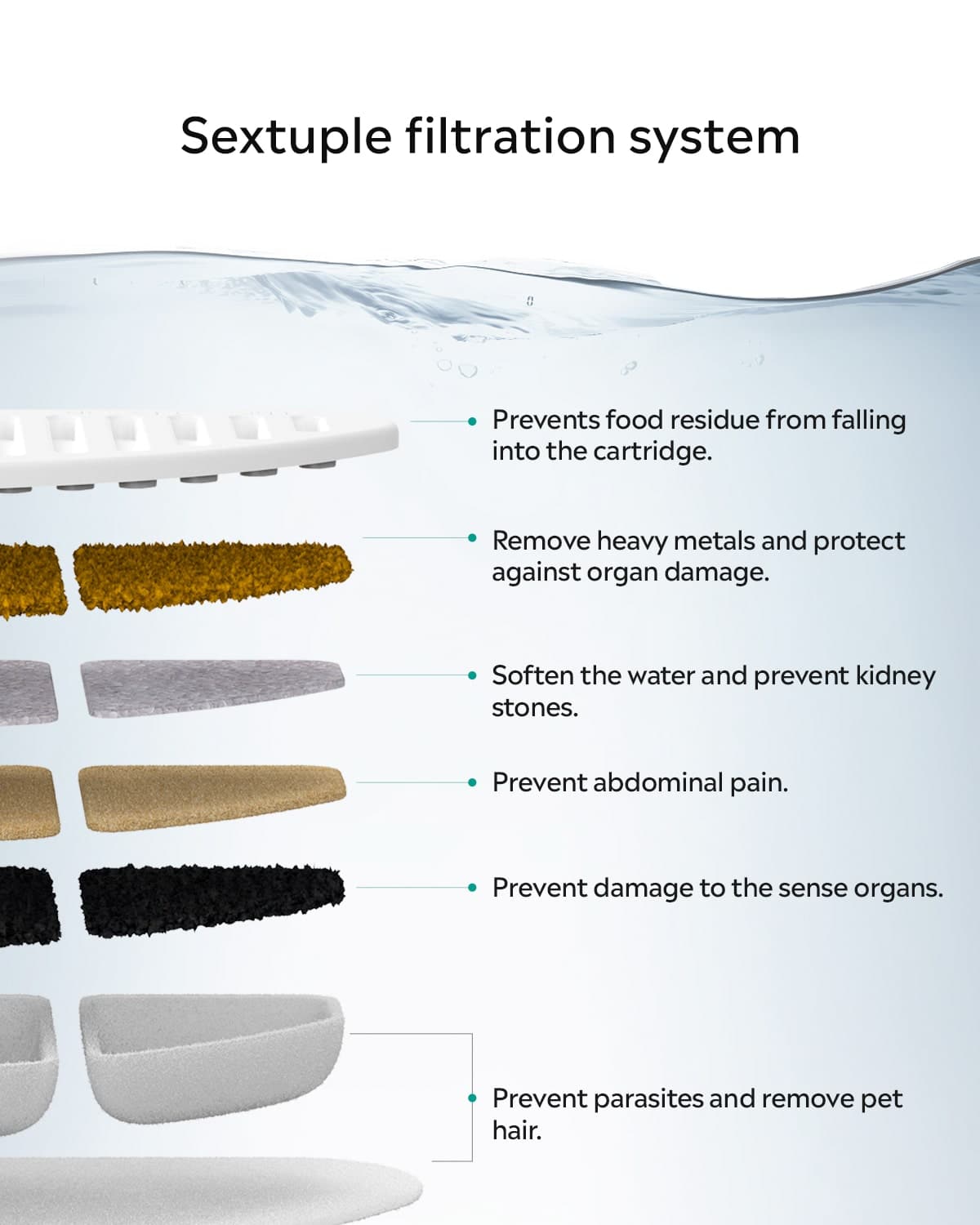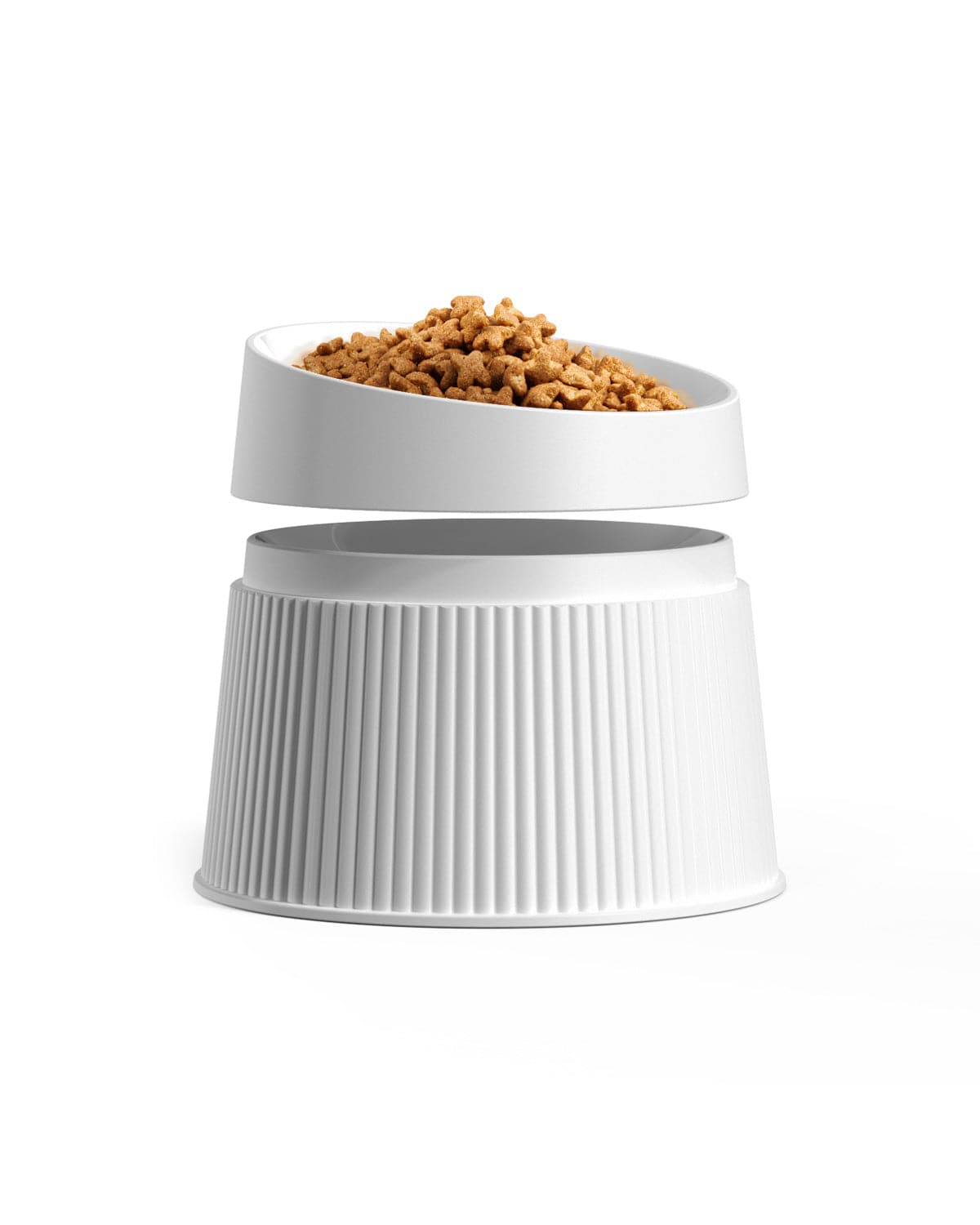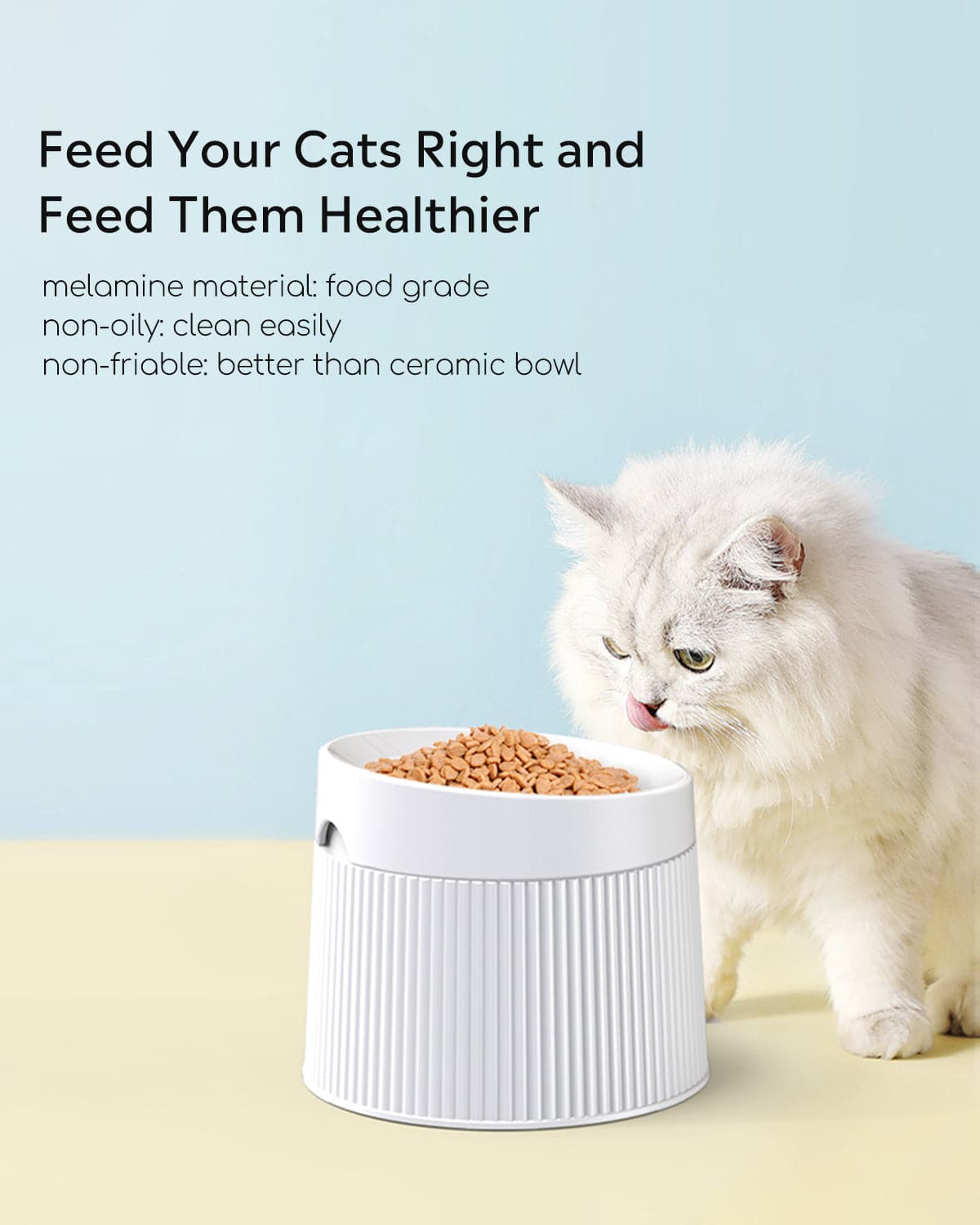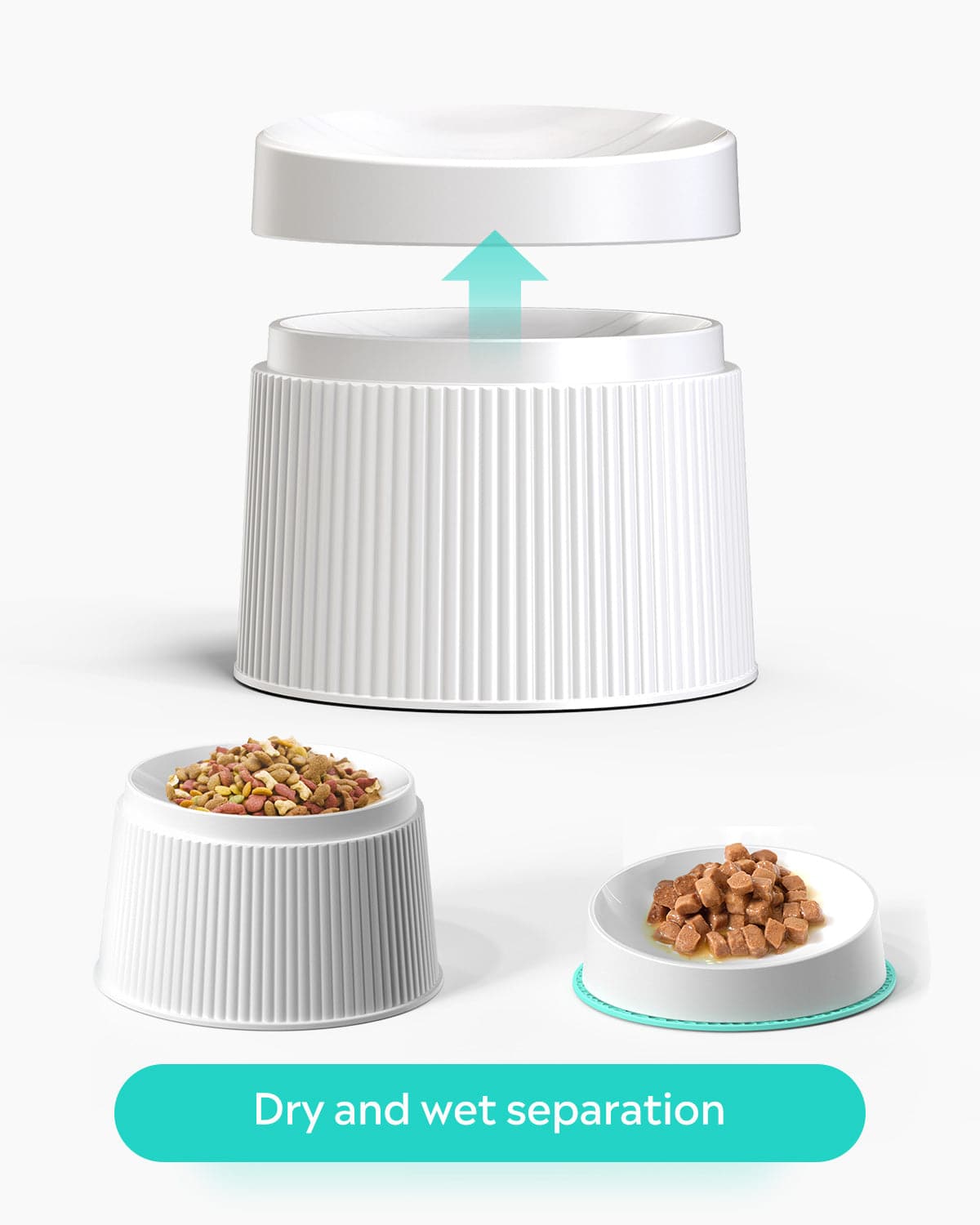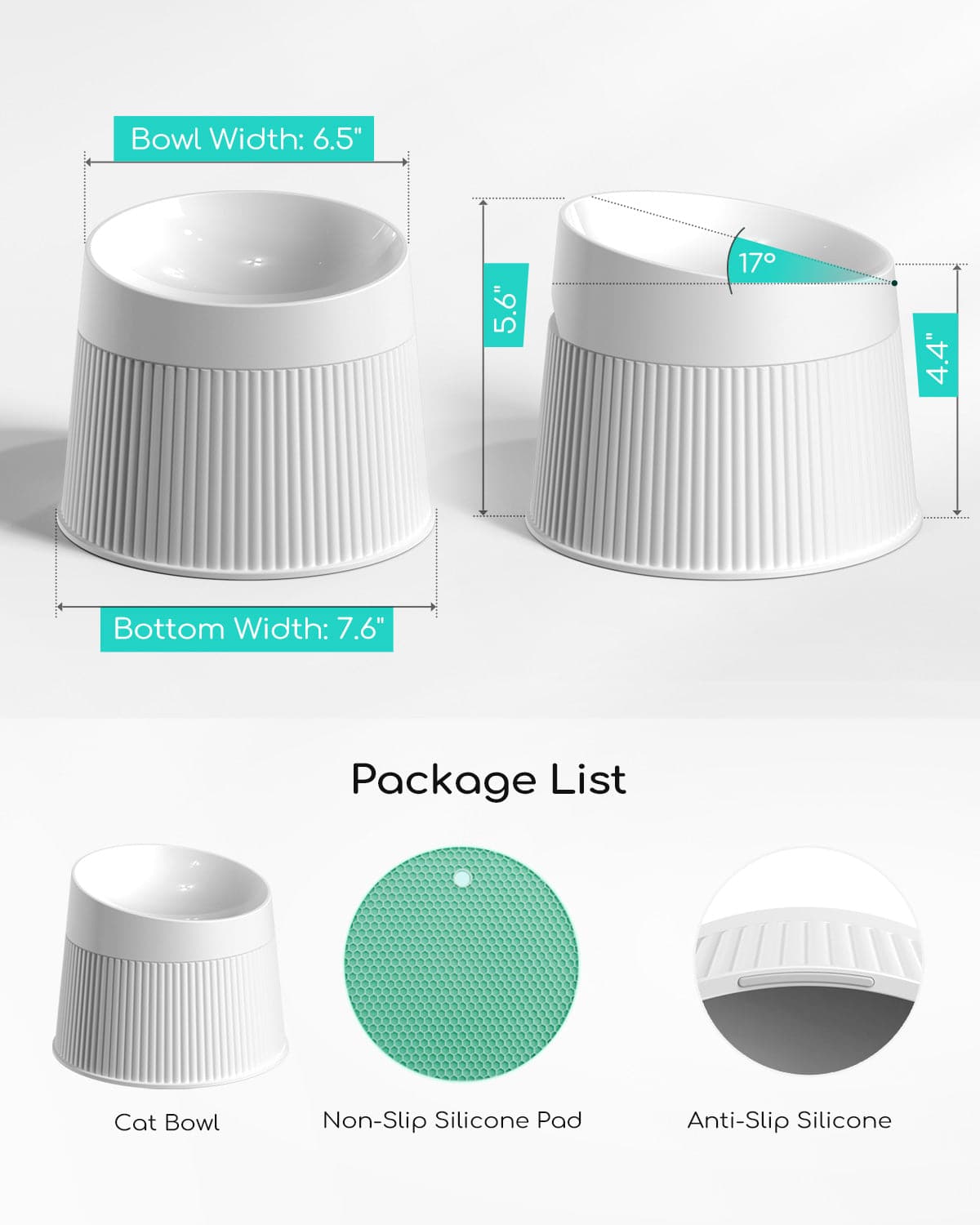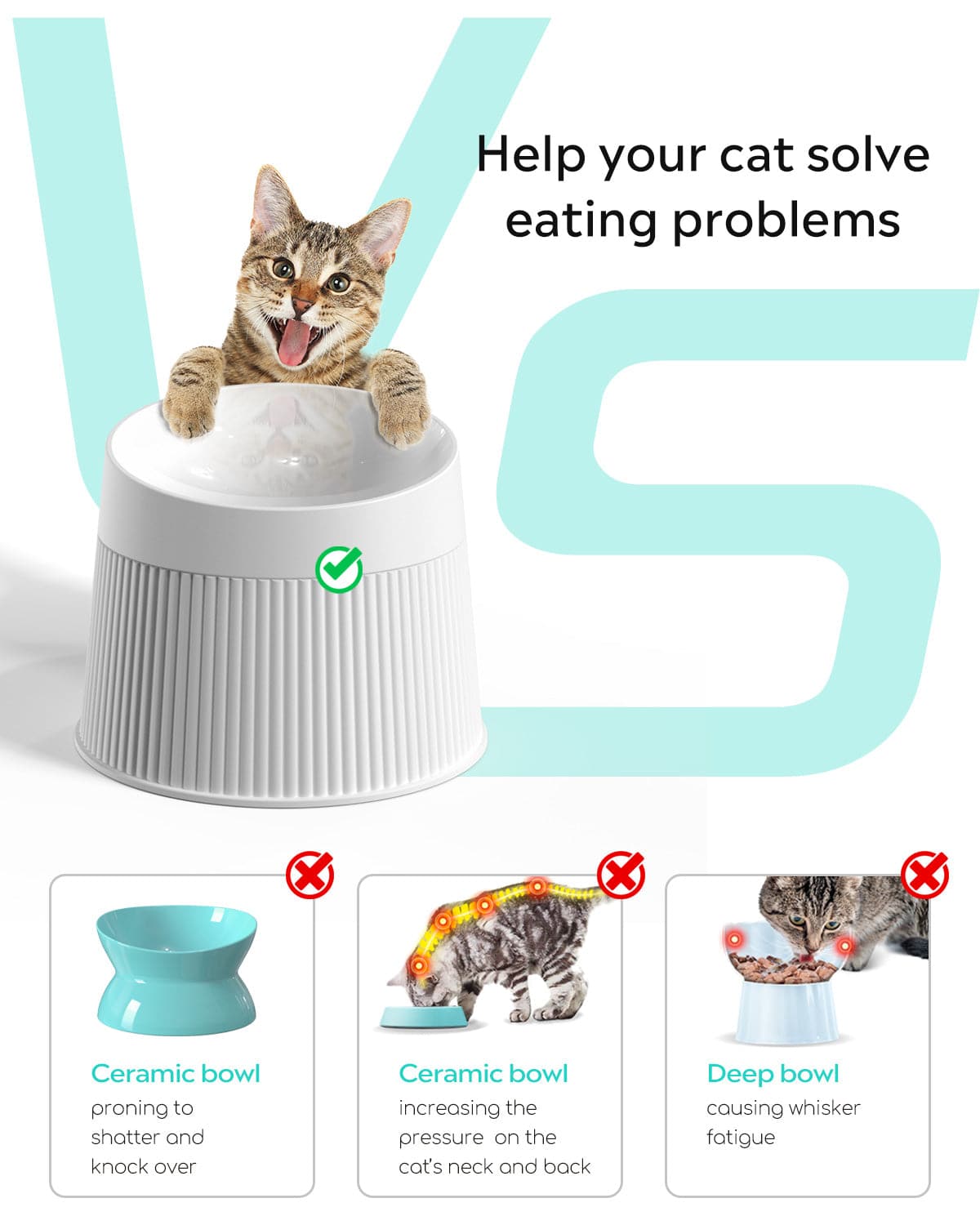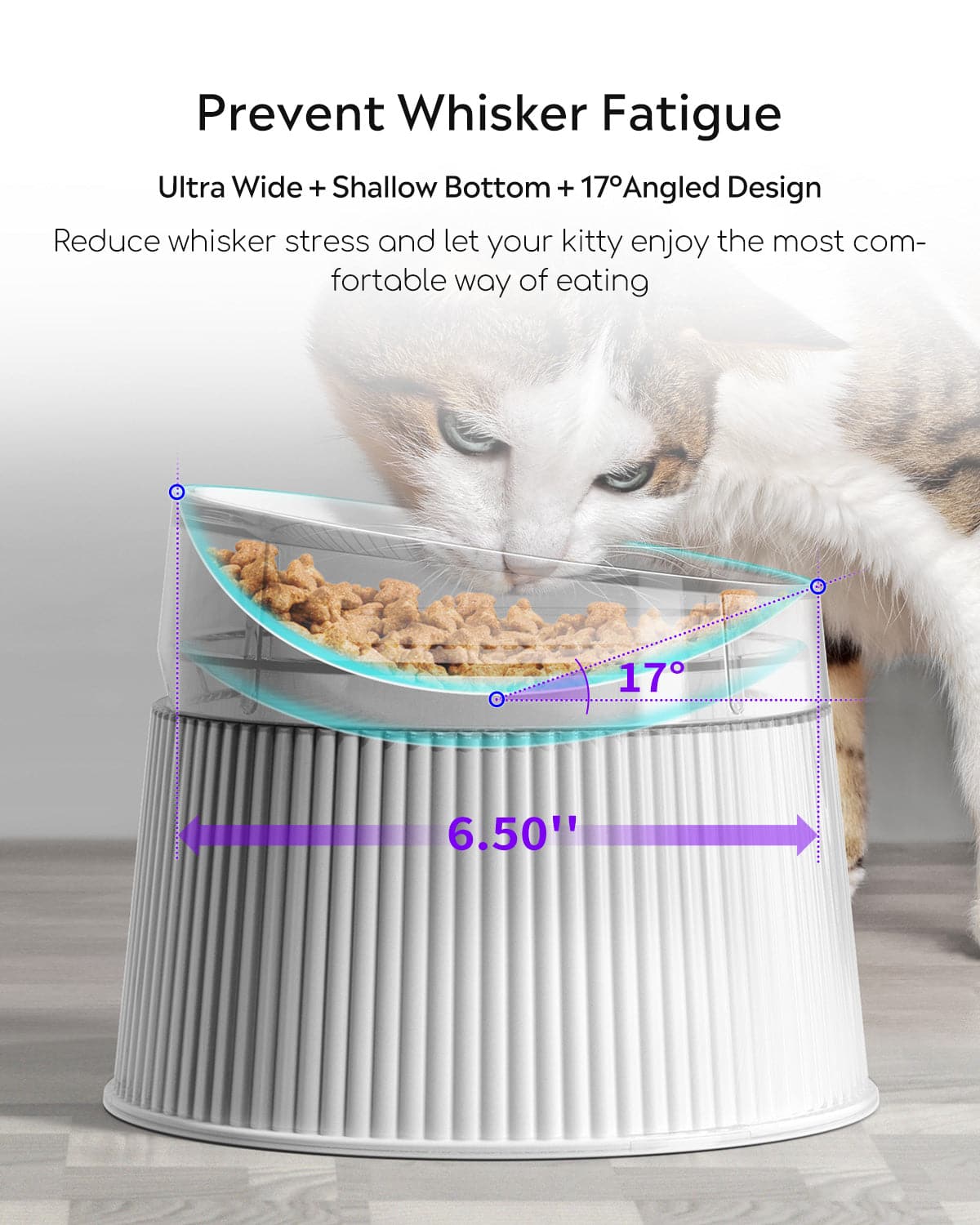 Bestseller Bundle
Save 15% with code:
PETSON15
Copy
WHAT'S IN THE BUNDLE
-ZERO Wireless Cat Water Fountain (with 6 filters)
-Replacement Filter for ZERO Cat Water Fountain (6 pcs)
-Elevated Cat Bowls
Free US Shipping $50+ (continental U.S. only)


Zero wireless cat water fountain
Pet Water Fountain with Wireless Pump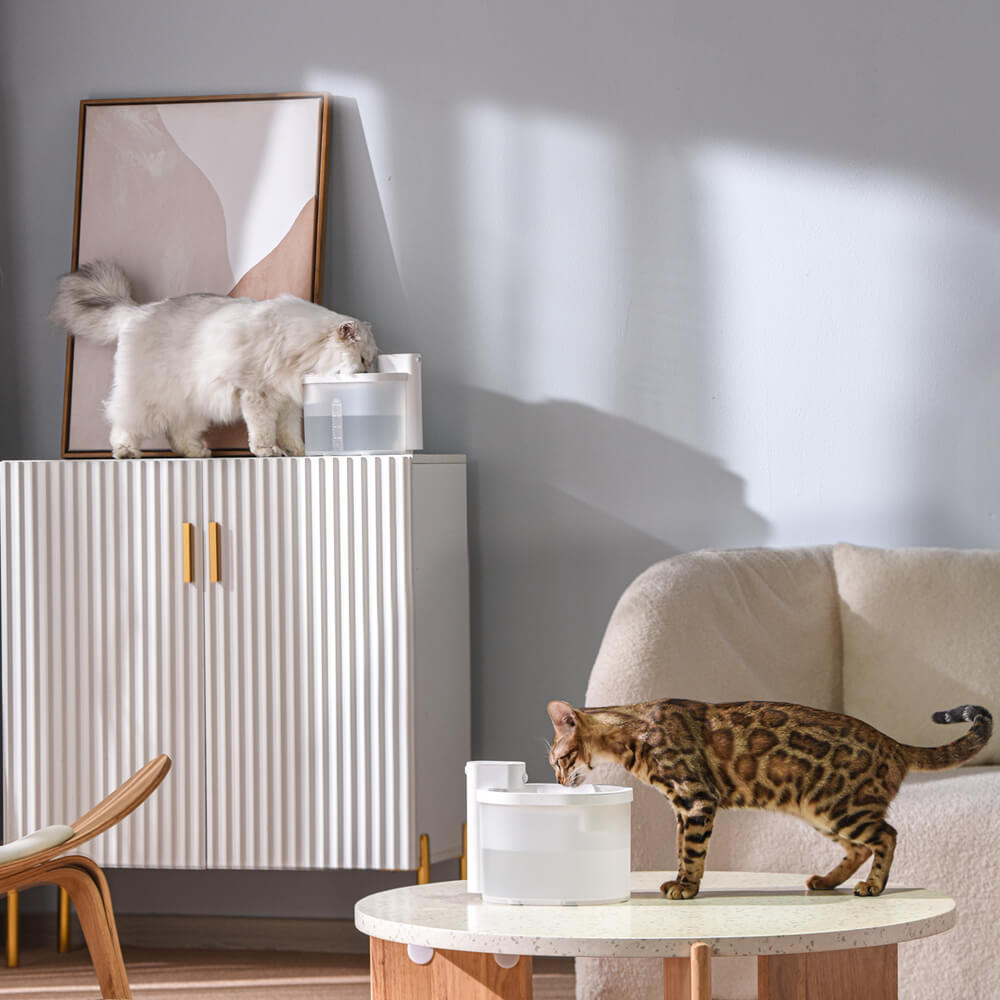 cordless design
Place it anywhere your pets feel comfy drinking water
Thanks to its cordless design, there's no need to be plugged in at the wall. No trip hazards and no dangerous wires for your pet to play with. You can place this battery-operated fountain anywhere your cats feel comfy drinking water. And it's the perfect solution for multi-pet households.
HASSEL-FREE REFILL
Simplify pet parenthood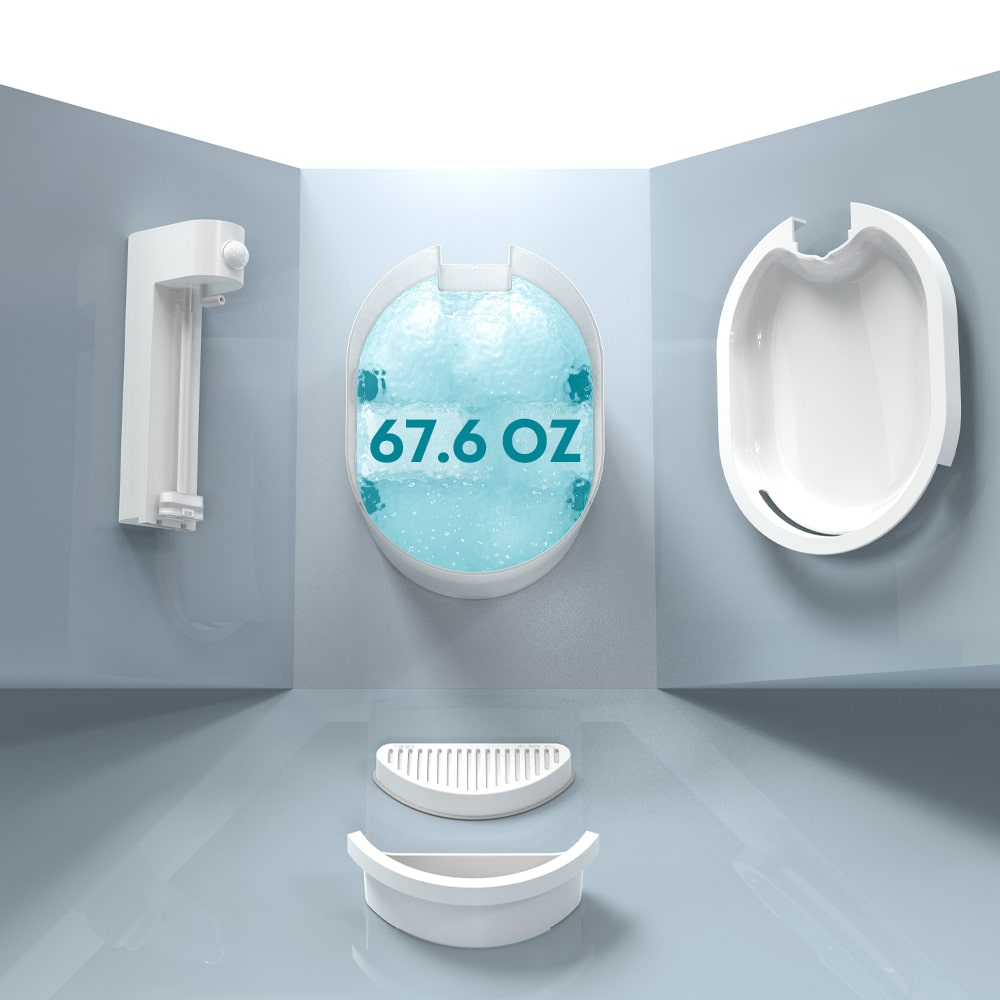 Extra-large tank
Who likes to spend time on a half-filled water bowl? With the 2L (67.6 OZ) storage tank of ZERO automatic cat water fountain, you won't have to.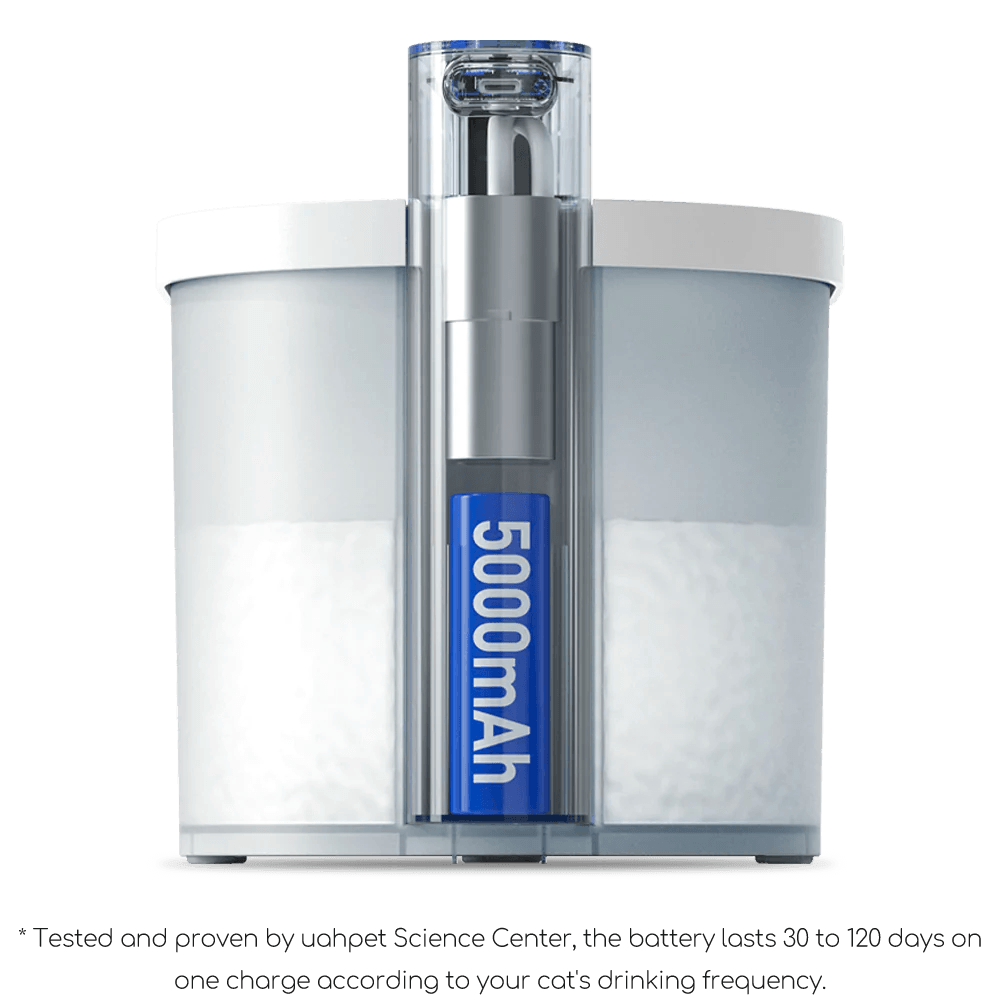 Long-lasting battery
Up to 120 days battery life. Just fill it with water and keep your pets hydrated all day long. (Battery included)
Rechargeable with USB
Rechargeable with USB, no need to change battery frequently. That's how we make it safe for the planet. (Power adapter is not included in the package.)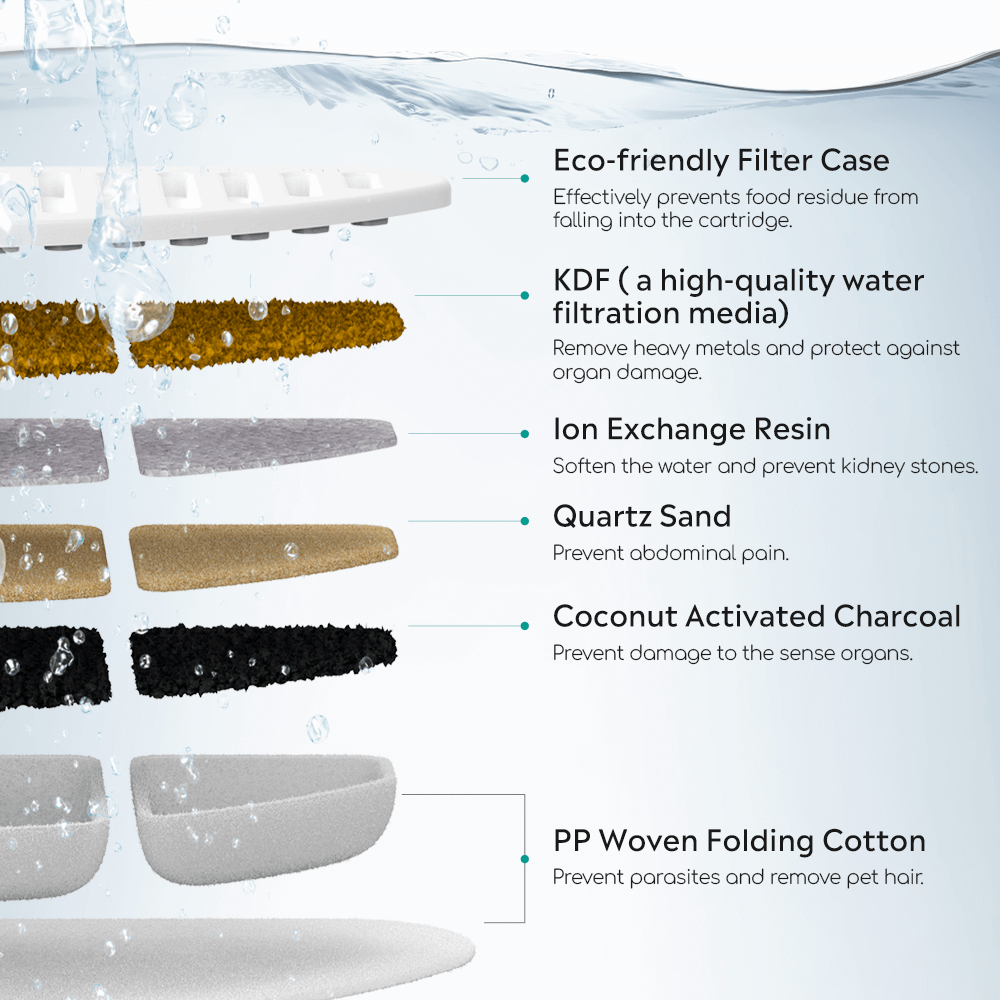 6-level filtration system
Ensure your pets enjoy the cleanest water possible.
Keep your pet safe from urinary diseases. This fountain contains KDF, quartz sand, coconut activated charcoal, and ion exchange resin, so it's perfect for cats and dogs that love to drink fresh-tasting water.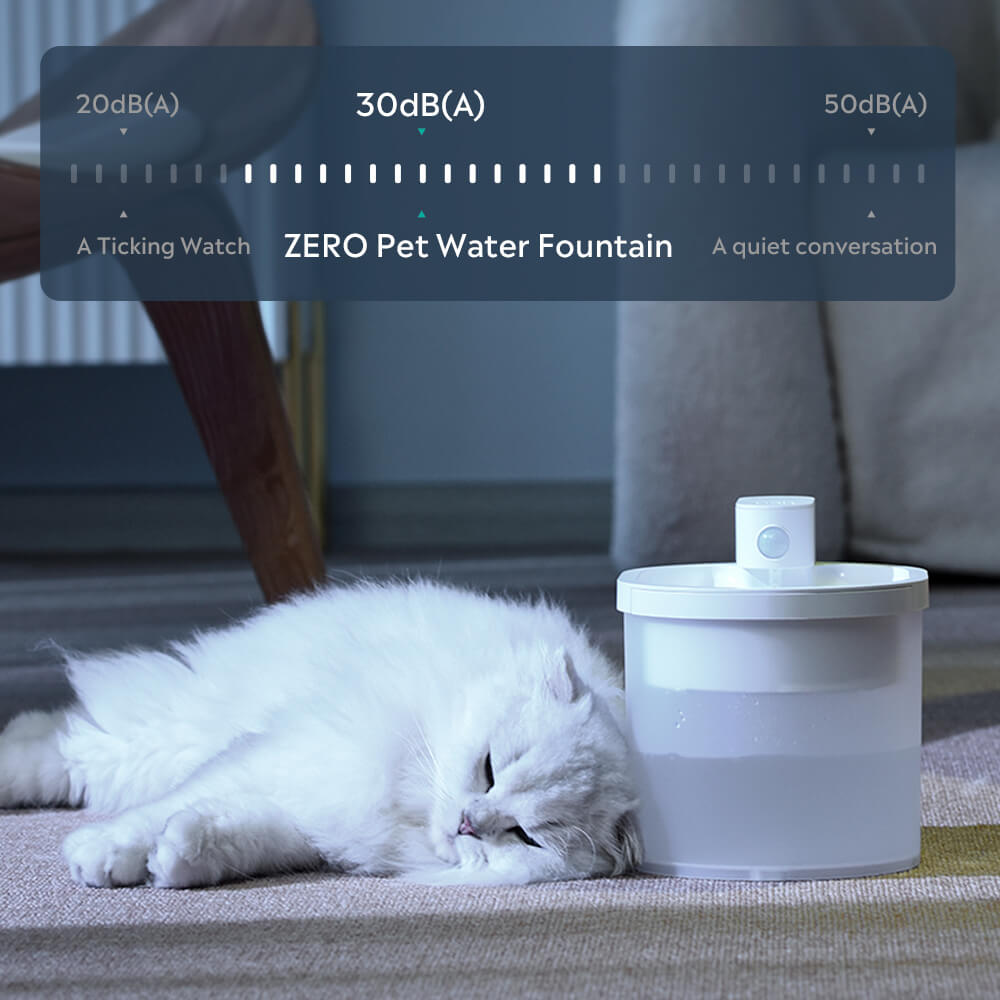 SILENT OPERATION
Best for light sleepers
Say goodbye to the constant whirring of the ordinary drinking fountain. With the ZERO cat water fountain's ultra-quiet performance, you can easily have a sound sleep, and your cat can take all the time he needs to drink his water. Plus, timid cats will never be deterred by the noise again!
WIDER DESIGN, FEWER PARTS
Make cleaning and reassembling a breeze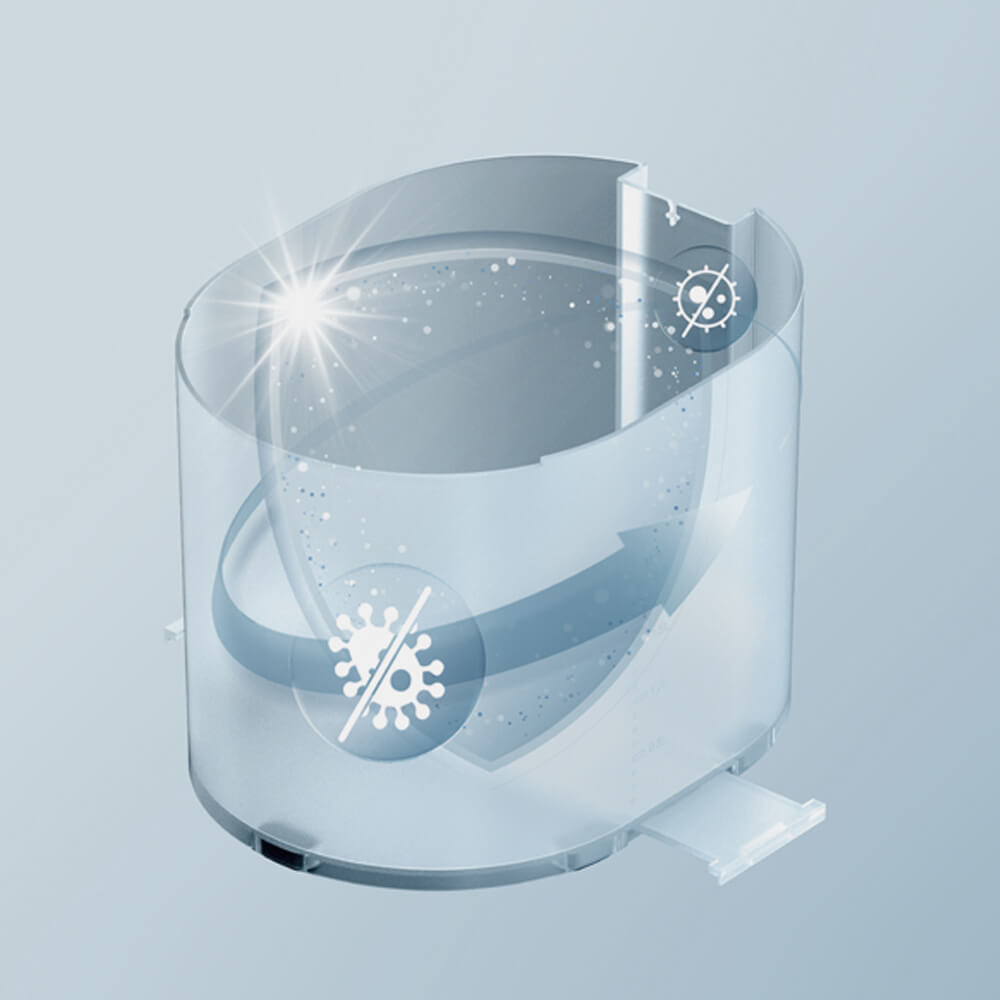 Antibacterial material
Preventing dirt buildup to ensure your feline friend has safer drinking water.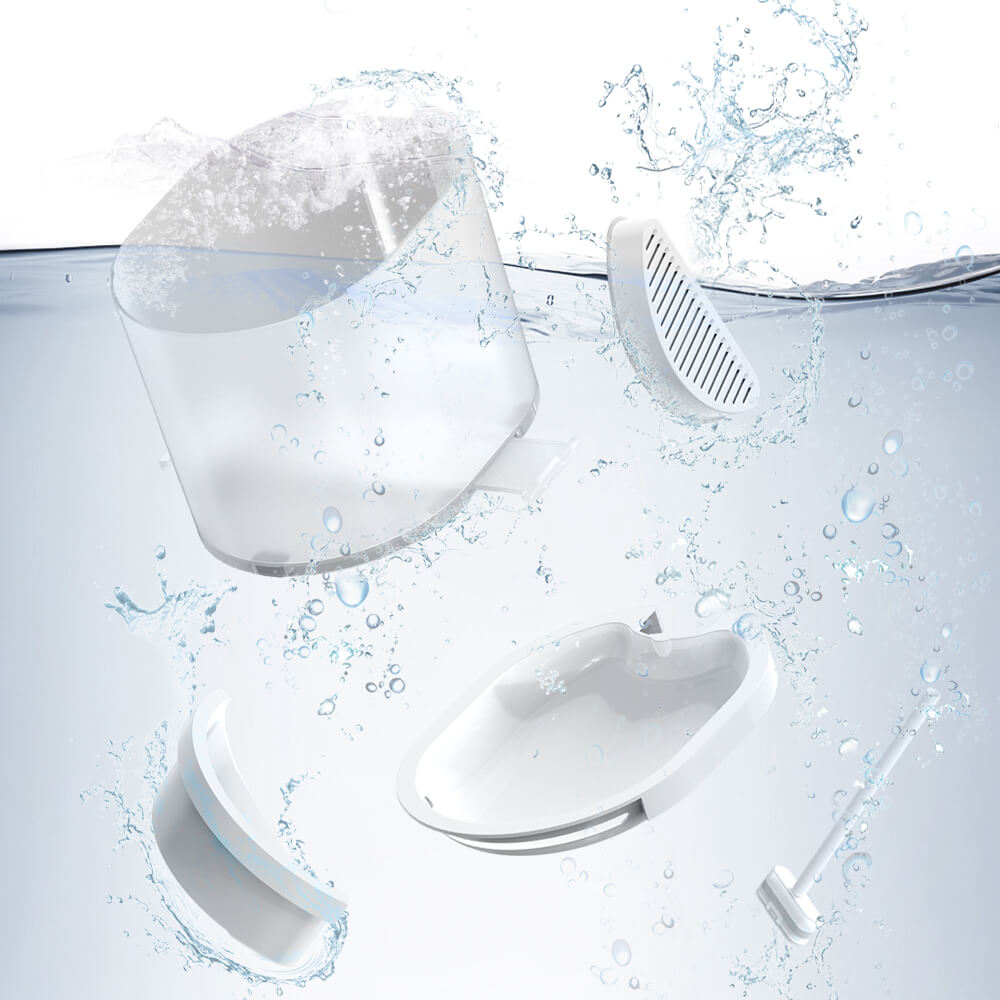 No-brainer maintenance
It allows you to take the water pump and other pieces apart for a more thorough cleaning.
SMART TECH
Two water flow modes
Your pet gets the best of both worlds: a source of water that is continuously flowing and free from outside contaminants.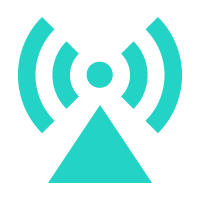 MOTION-ACTIVATED MODE
It can simultaneously run when your pet comes within a 2-meter distance in a 120-degree area.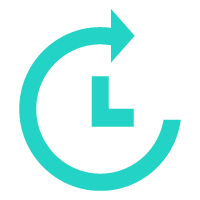 TIMER MODE
It provides your pet with cool, fresh water automatically every 15 minutes.
EXTERNAL WATER PUMP
Designed with security in mind
It's easy to assemble, simple to maintain, and fully leak-proof to help protect your feline friends.
WIDE WATER TRAY
Whisker-relief
ZERO features a wide water tray, so your cat can have a relaxing water drinking experience.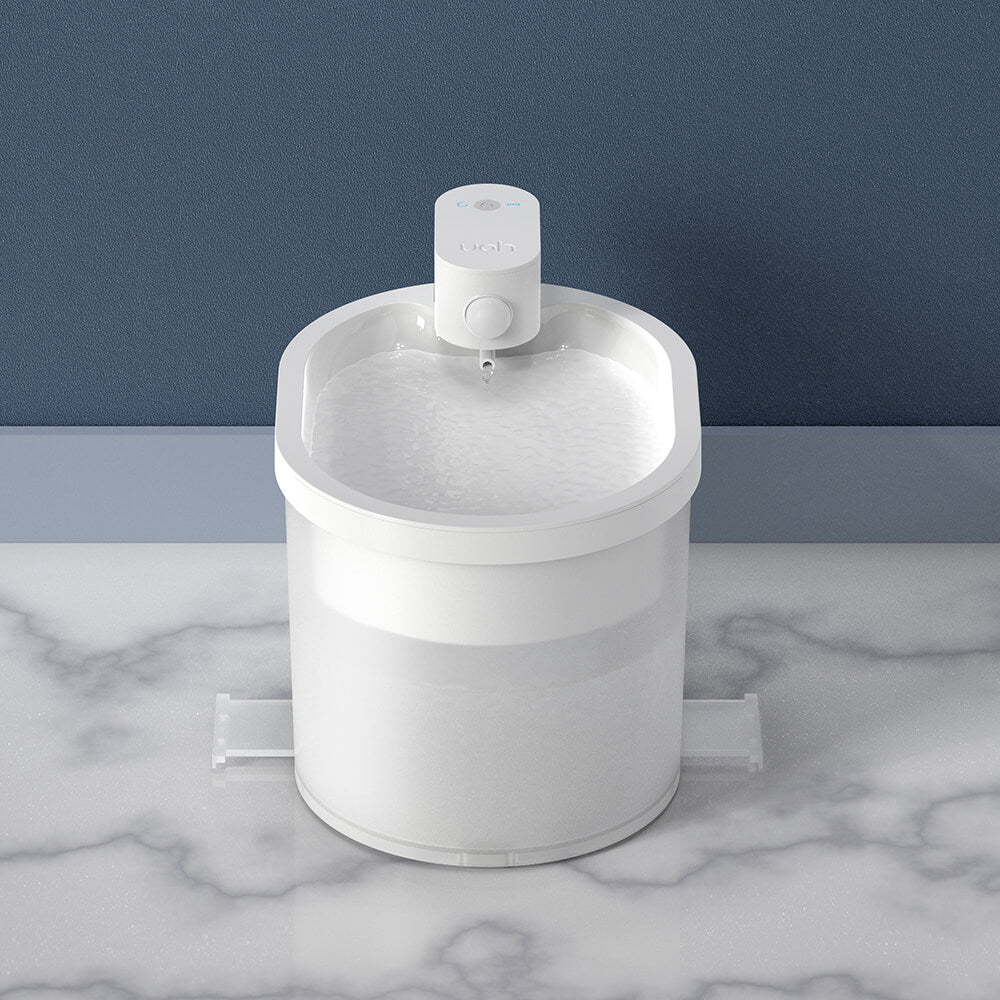 ANTI-TIPPING BRACKET
Stable and tip-proof
It avoids tipping over and prevents messy water spills for hygienic drinking.
ELEVATED CAT BOWLS
Elevate eating experience
Make your cat feel comfortable and happy when eating. uahpet's elevated cat bowls feature a slightly curved design that is much easier on your cat's neck and prevents strain on the cervical spine. Made from food-grade materials, the bowl is pet-safe, heat-resistant, and durable.
5.6-INCH COMFORT HEIGHT
Effectively relieves necktension
Designed ergonomically with a height of 14 cm (5.6 inches), uahpet's elevated cat bowls are way more pet-friendly than traditional cat bowls and other raised cat bowls on the market. Cats won't have to bend down too far to reach their food. This science-driven design not only reduces pressure on the neck and spine when eating, but also helps cats swallow food much more easily, reducing the risk of vomiting.
ULTRA-WIDE AND SHALLOW BOTTOM
For whisker stress-free eating
The 16.5cm (6.5 inch) ultra-wide and shallow elevated cat bowl provides more space for your cats' whiskers so that they don't touch the edge of the bowl when eating, helping to reduce your kitty's nervousness and discomfort. The 17-degree tilt keeps the food in the center and not scattered around so that your furry friend can access the food more easily. This is also the perfect solution for the messy eater!
Subheading
Save time, money, and space.
uahpet's elevated cat bowls can be disassembled into two up-and-down bowls easily. It is purr-fect for holding both wet and dry food, so your cat can enjoy two kinds at the same time without mixing them up. This bowl is also ideal for the multi-pet household whose cats don't like each other to reduce fights over food.
Battery life varies by the number of cats, use frequency, and many other factors; actual results will vary.

100-120 days battery life is based on 20-30 times trigger.
60-80 days battery life is based on 30-50 times trigger.
30-45 days battery life is based on 70-100 times trigger.
Indicator for charging status:
Red light indicates running out of battery;
Blinking blue indicates that charging is in progress;
Solid blue light indicates a full charge.
The steps are simple:
Step 1: Turn the power off.
Step 2: Pull off the water pump, and remove the drinking water tray and filter compartment from the bucket.
Step 3: Scrub all except the filter itself with soapy water and then rinse well with clean water. Gently remove any solid debris (hair, dust) from the surface of the filter.
Step 4: Reassemble. We recommend you clean your water fountain once every 4~7 days, perhaps at the same time as you change the water.
We recommend replacing the filter and filter sponge every 3-4 weeks depending on use. Replacement filters are available on our website in convenient packs of six.
For optimal usage, we recommend replacing the water every 4-7 days, though the fountain is designed to be safely used for up to 10 days at a time.
Yes. The fountain is free of lead and BPA and it is compliant with all FDA and RoHS requirements.
The Uahpet water fountain is made of inert, pigment-free, baby-grade food materials that will not stain or discolor. It is built to be wear-resistant, easy to clean, and to withstand reasonable drops. Its antibacterial properties make it non-toxic, odor-free and can help prevent black chin and other infections, contributing to your cat's overall health.
Because the water pump is located external to the water bucket, the risk of leakage is greatly reduced.
Yes, the fountain is certified to be IP6X waterproof, which means it can easily withstand heavy rain or other heavy blasts of water. You can safely put it anywhere.
If the water level in the bucket runs low, the sound of water trickling may become louder, but in normal circumstances, the water fountain operates in near silence, and is almost undetectable, even in the middle of the night, so it is perfect for light-sleeping owners (and pets!)