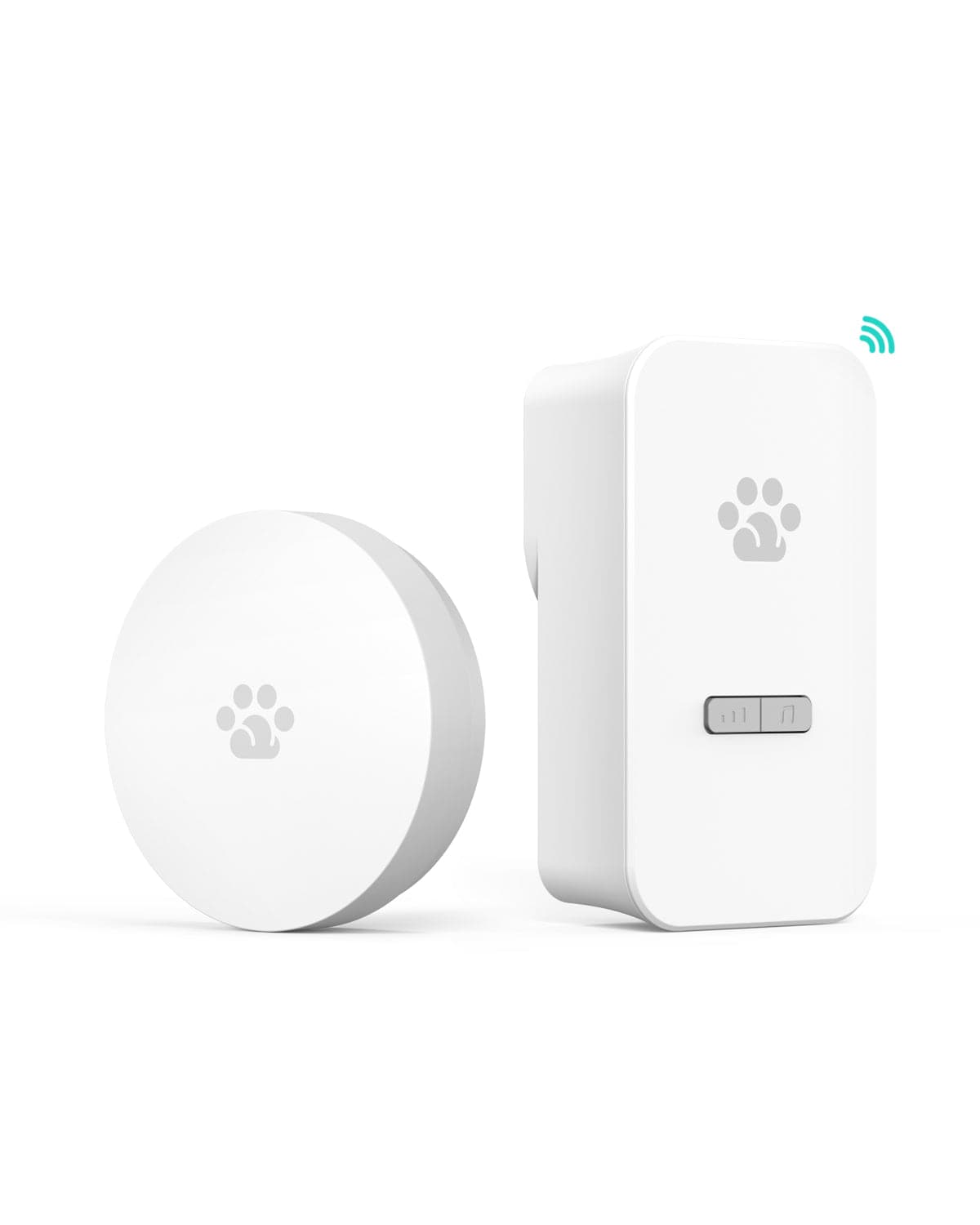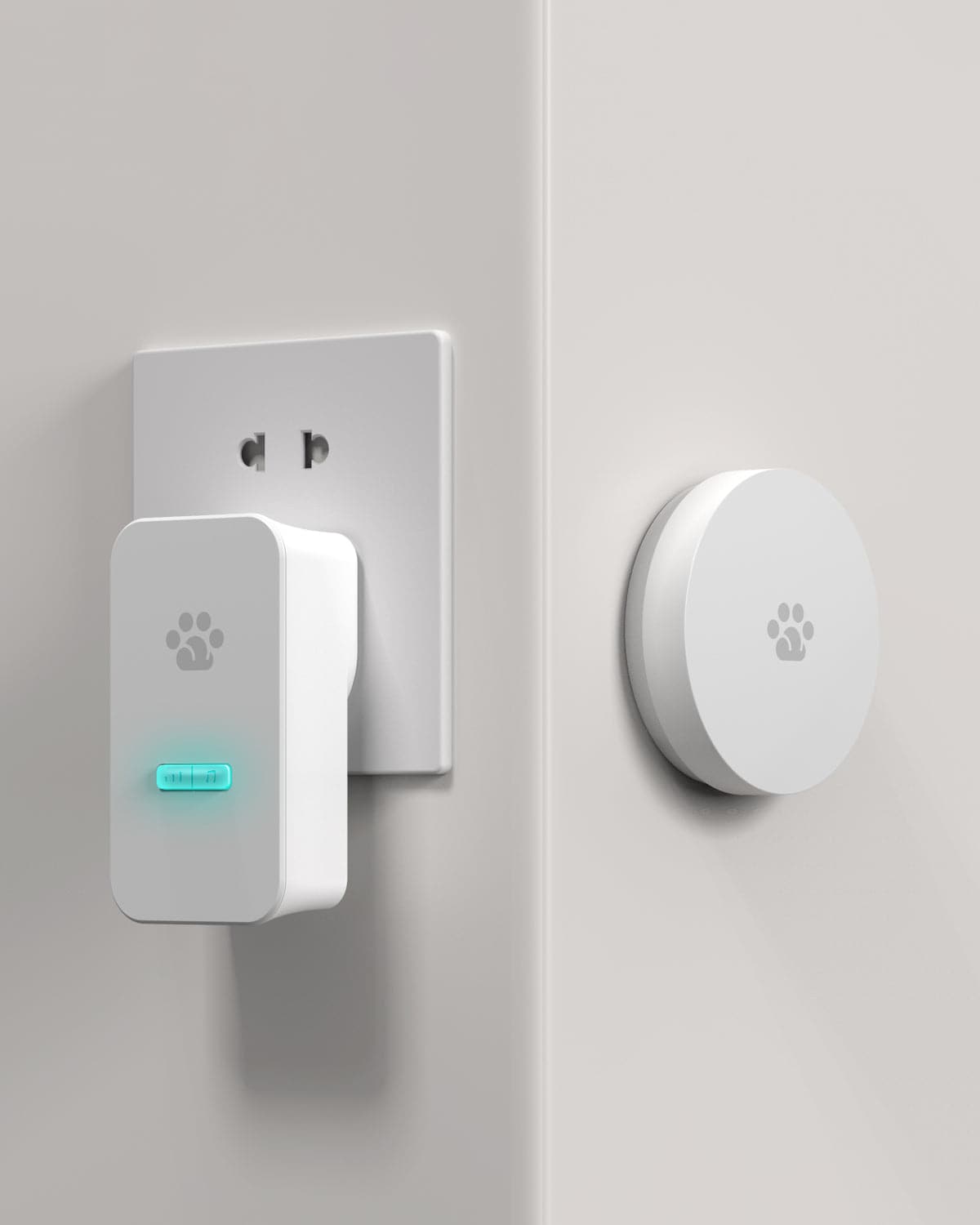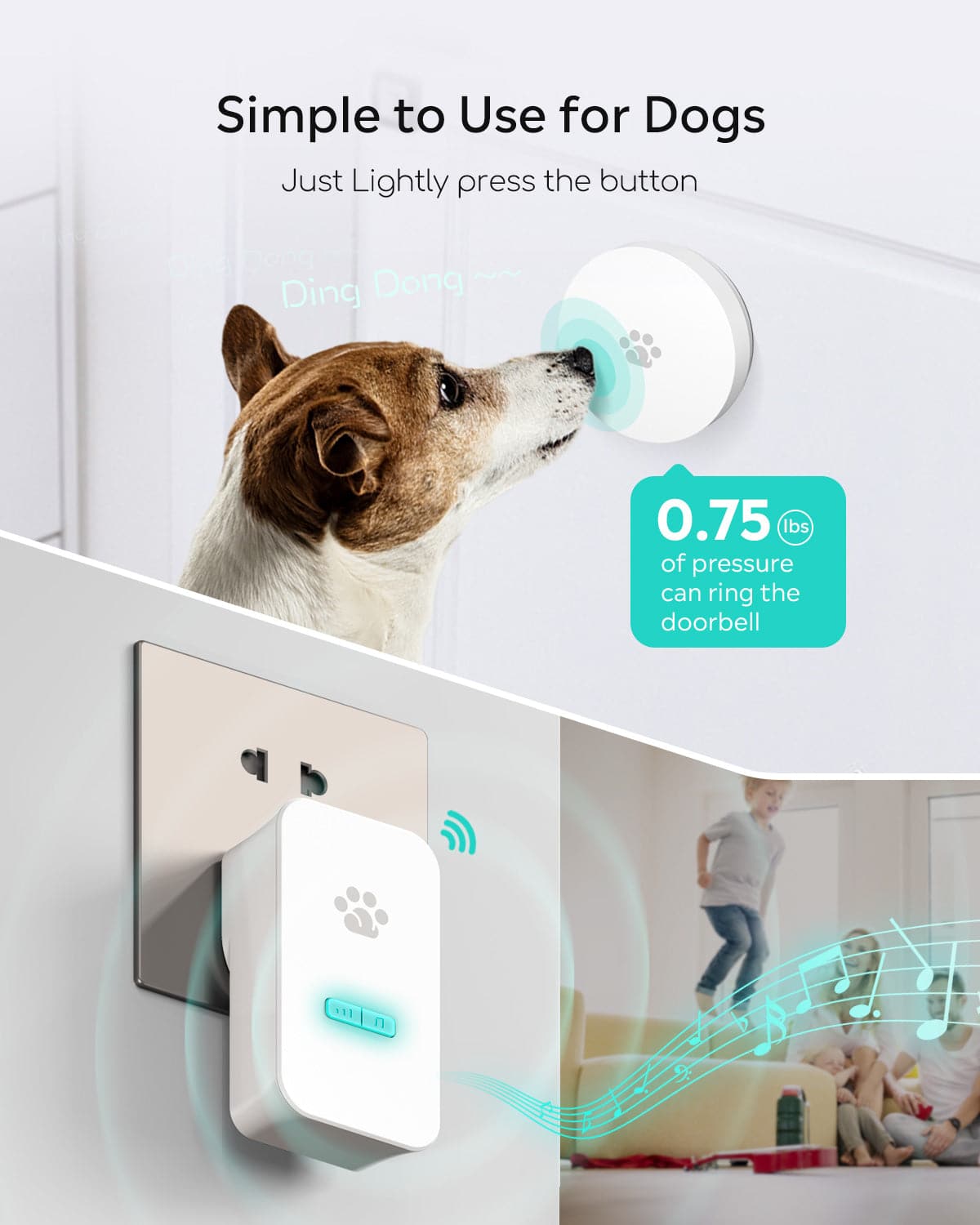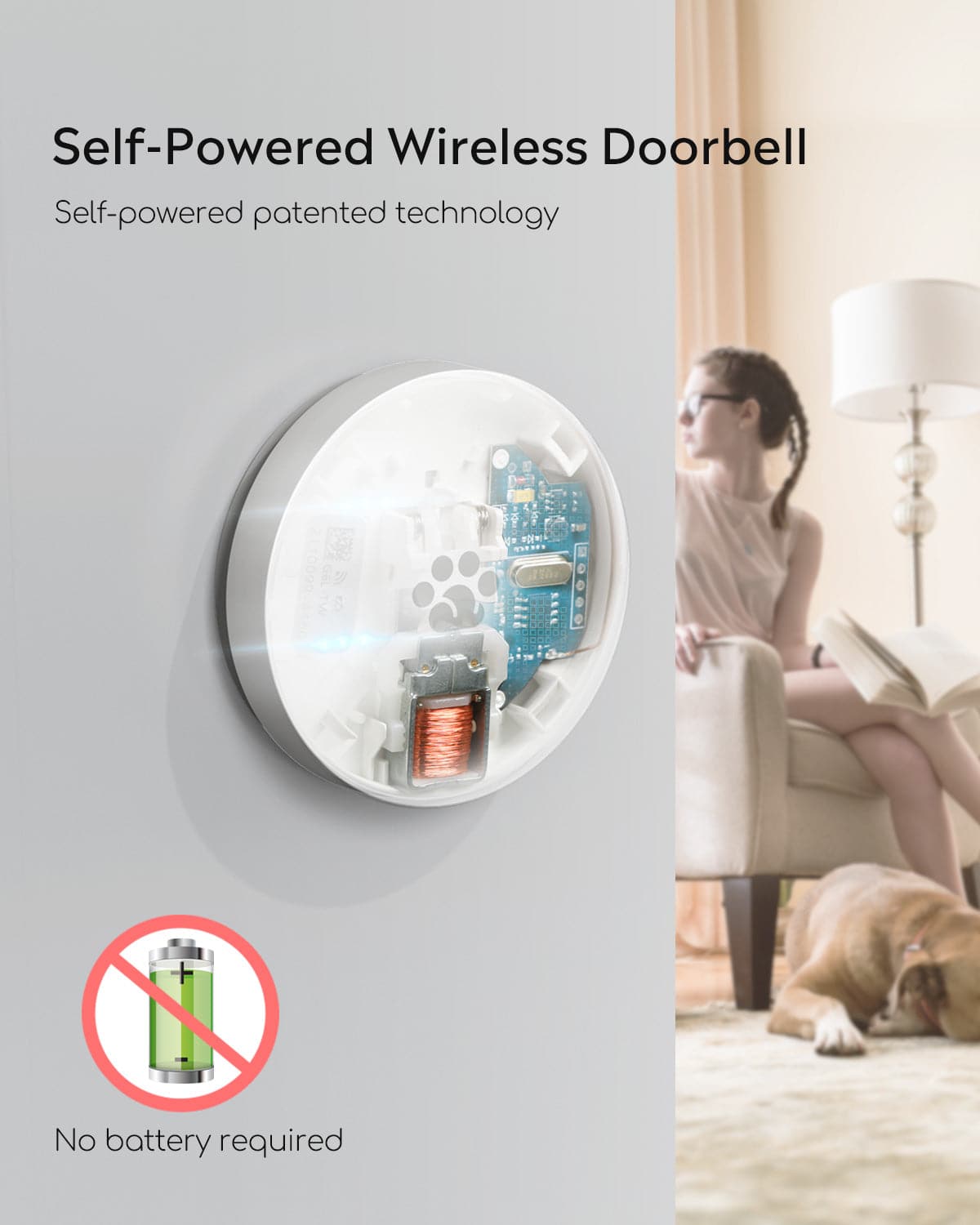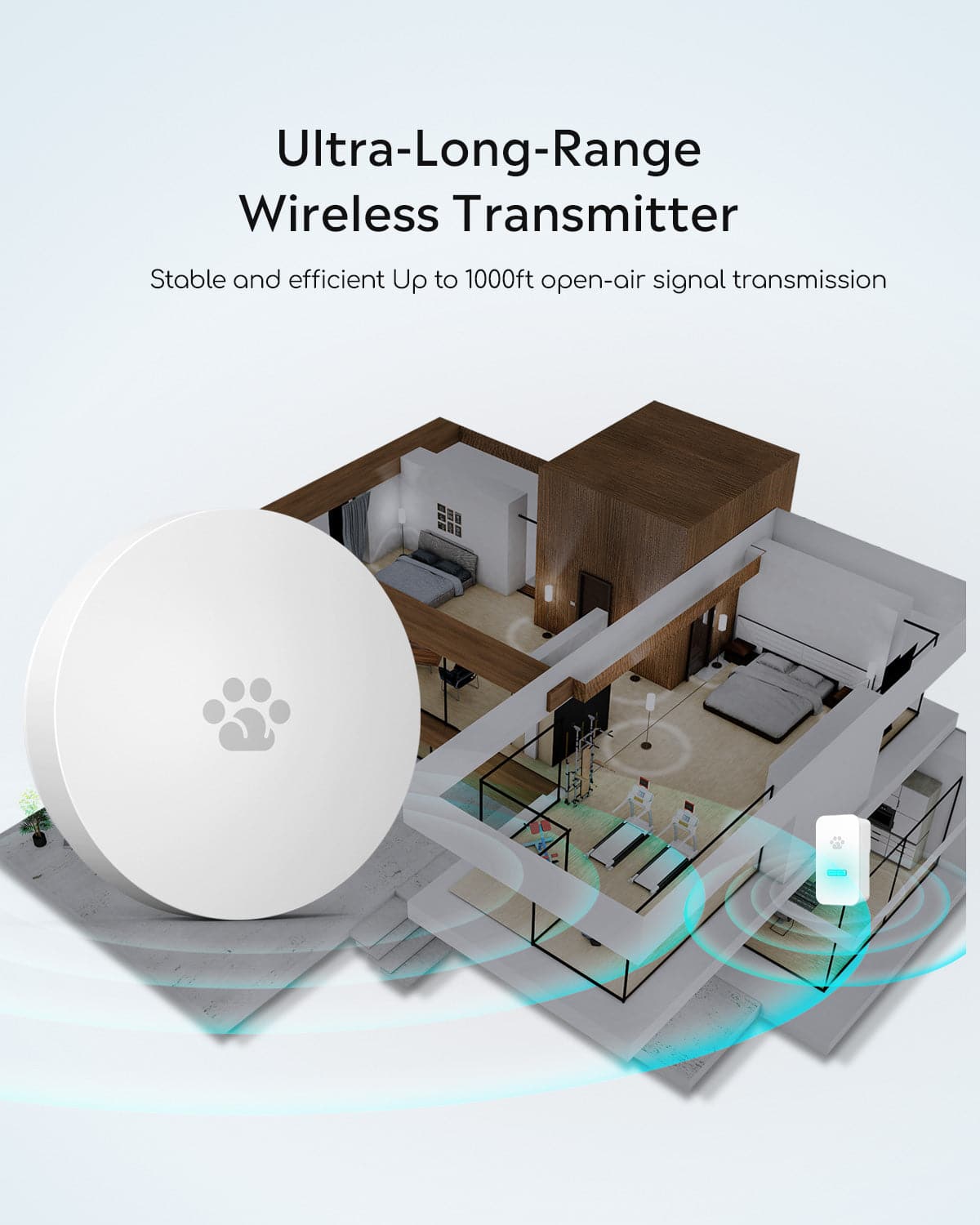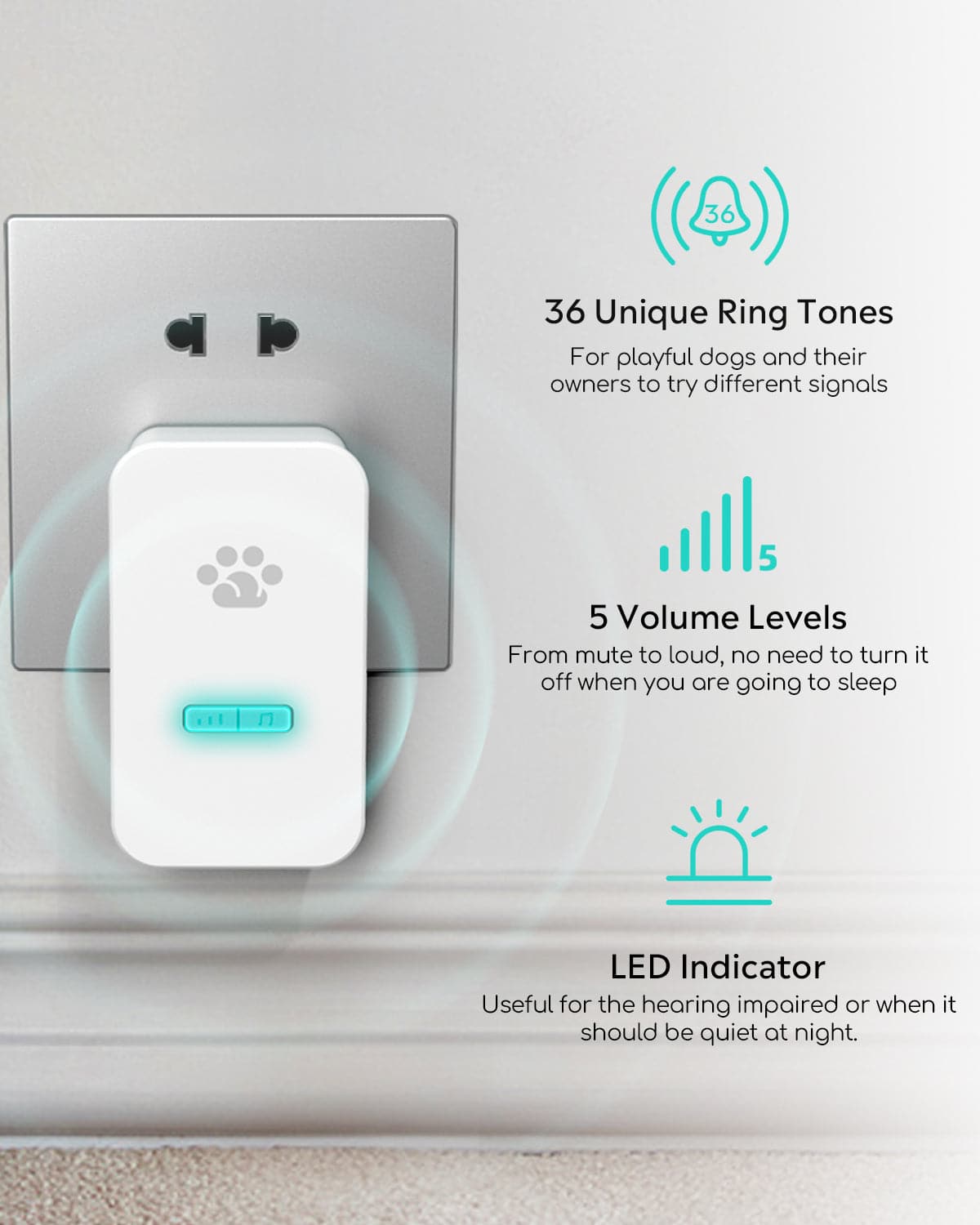 Uah Pet Self-Powered Wireless Dog Doorbell
Get 30% OFF with Code:
JINGLE30
Copy
Backed by self-powered technology. Easy for dogs to learn and let you know whenever they want to go outside.
In stock
Free US Shipping over $50 (continental U.S. only)


Self-Powered Wireless Dog Doorbell
Door-scratching problem, simply solved.
Know whenever your dog wants to go outside. This doorbell is designed to help reduce scratching, barking, and wear and tear on your doors. The oversized button makes it easier for dogs to learn how to use it, and a self-powered system eliminates the need for wires or batteries, making it an extremely durable dog doorbell that should last you many years.
SELF-POWERED TECHNOLOGY
Never need to buy a battery again.
No batteries or wiring required. The uahpet self-powered dog doorbell can generate electricity by itself.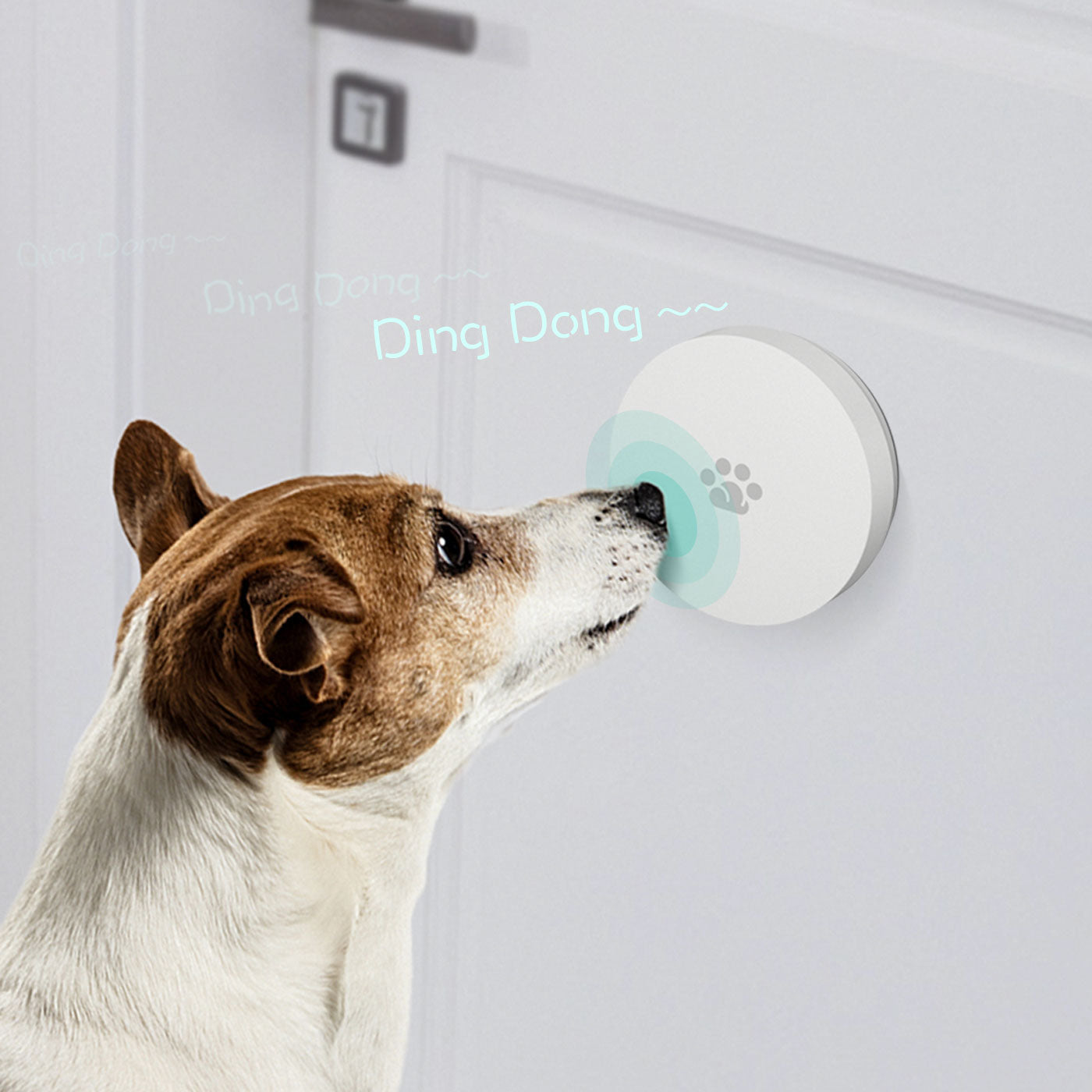 HIGHLY SENSITIVE TRIGGER
Simple for dogs to learn.
Fitted with a highly sensitive trigger, this device helps all dogs ask their owner to go outside with the least effort possible. Dogs of all shapes and sizes can quickly learn how to use it. Even a gentle press equal to 0.75 lbs anywhere on the transmitter can trigger the doorbell, so your polite pooches can press it with their nose or paws.
Mute to loud, on your terms.
From mute to loud, there are 36 crisp built-in ring tones with 5 levels of volume, no need to turn it off when you go to sleep.

LED visual alert
Paired with visual alerts, the bright LED will also alert you, perfect for anytime you don't feel like hearing the doorbell.

Ultra-Long-Range Wireless Transmitter
Cover your entire home.
Operating range up to 1000 ft / 304 m in the open area ensures you hear and answer your dog's call in time. Whether you are occupied a few rooms away or on another floor altogether, in the garden or kitchen, you will always be easily and quickly informed when your dog is calling you from outside.
Not simply a dog doorbell.
Mute Mode (0 dB) ensures that the mistouch from your dog will not bother your peace. The flashing light indicator is designed for anyone, including the hearing impaired, to easily notice their dog's call. This nifty doorbell can be used not only by pets, but also as a caregiver pager for elderly/sick patients.
Set and forget.
Easy to set up in seconds. Equipped with a power-off memory function, the uahpet self-powered wireless dog doorbell enables you to set the music only once and enjoy it forever.

Sleek Design
Easily blends into any home decor.
Self-powered patented technology

Uahpet wireless dog doorbell has patented self-generation technology to power doorbells. No batteries required means no fuss with replacements, and no worries about your dog being left outside during a power outage.

Simple for dogs to use

Dogs of all shapes and sizes can quickly learn how to use it. A gentle press of 0.75 lbs anywhere on the transmitter is all it takes to trigger the doorbell. And it's even for polite dogs using their nose or paws.

Customizable volume & ringtones

Customize your pet's call with 5 volume levels (0 dB to 105 dB) and 36 built-in ring tones. With power-off memory function and flashing light indicators, the uahpet wireless dog doorbell is perfect for all pet parents, including those with hearing impairments.

Ultra-long-range wireless transmitter

With a 1000 ft / 304 m open area range, you'll always hear your dog's call no matter where you are in the house or garden.

A Wireless Dog Doorbell Effortless to install for everyone

This doorbell comes with a 3M adhesive patch and screws. There are two installation methods to choose from; both are solid and will not cause any damage to your wall. Place the receiver at least 20" above the ground to maximize signal strength. This doorbell is effective not only for pets, but also as a caregiver pager for elderly/sick patients.
Check our Pet Products & Accessories
What's in the box?
1 x Transmitter
1 x Receiver
1 x Back plate
2 x Screws
1 x 3M adhesive patch
1 x User manual


Specifications
Transmitter
Size: Diameter 67mm, Height 19mm
Weight: 36g
Frequency: 433.92MHz
Distance: 50M(outdoor open area)
Output power of the transmitter: 10dBm
Standby power consumption: 0W
Pressure to operate: about 700g

Receiver
Dimension: 83mm x 48mm x 23.5mm
Weight: 59g
Power supply: 110-240V AC
Plug: international standard 2 feet
Standby power consumption: 0.5W
Our dog doorbell does not require batteries! With patented self-generation technology, the transmitter can communicate through a microgenerator. When pressing the transmitter, it will generate electricity by itself and send a stable signal to the receiver.
It takes different dogs different training times. If you want to know more tips to train your dog, please email us at support@uahpet.com, we are here to assist you.
The height from your dog's nose to the ground is perfect. Both nose and paws are optional to ring the bell.

Press the music key, keep pressing it until you select your desired ringtone.