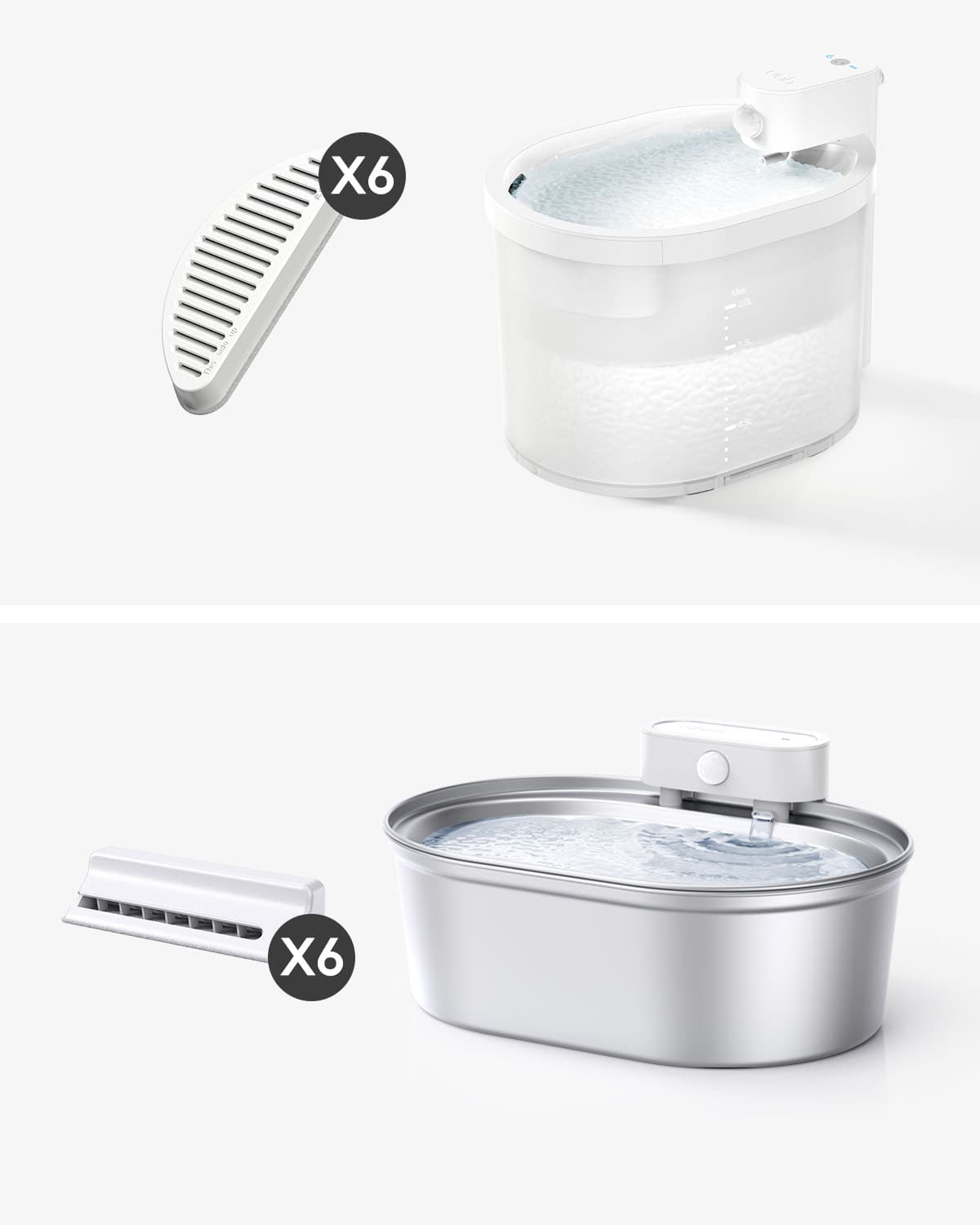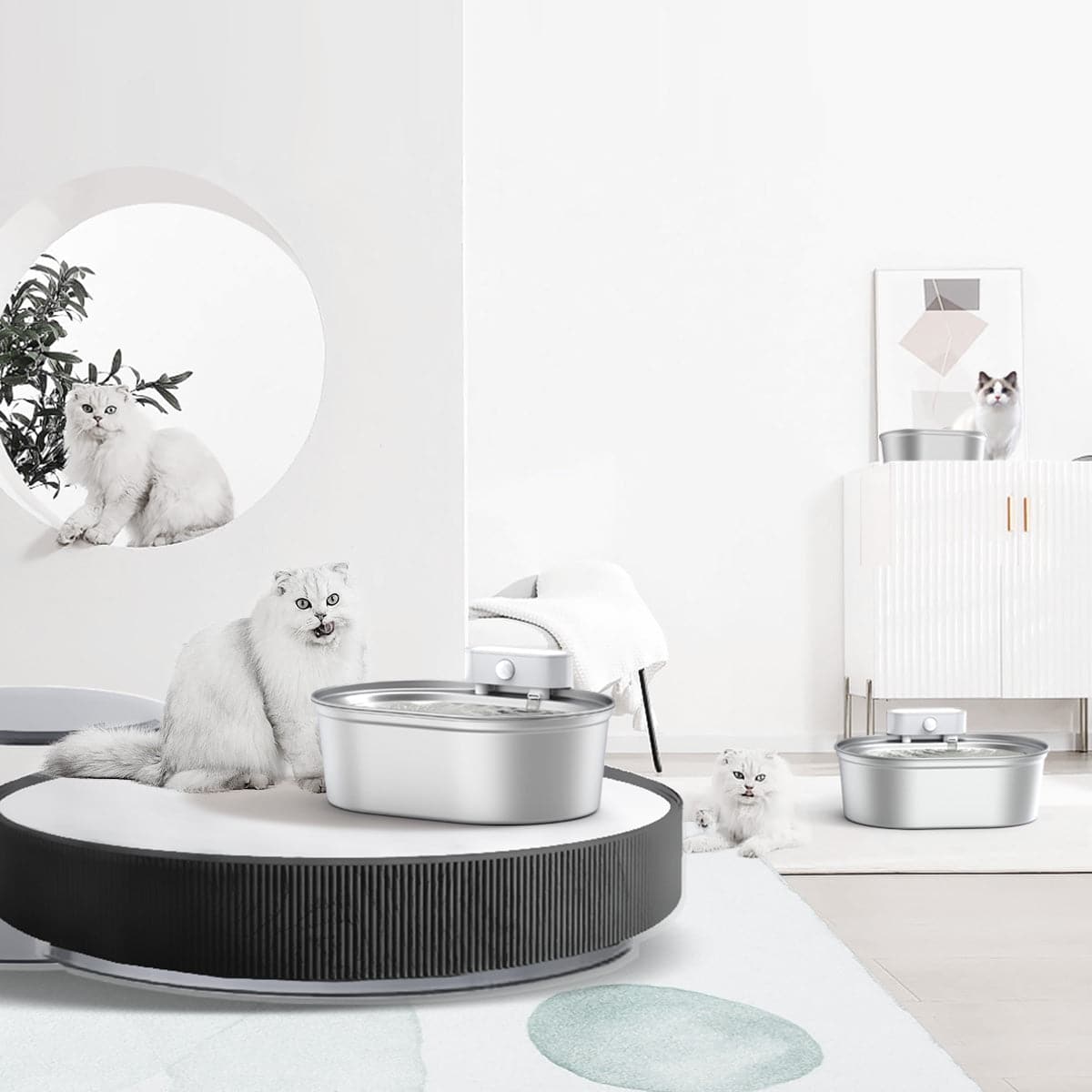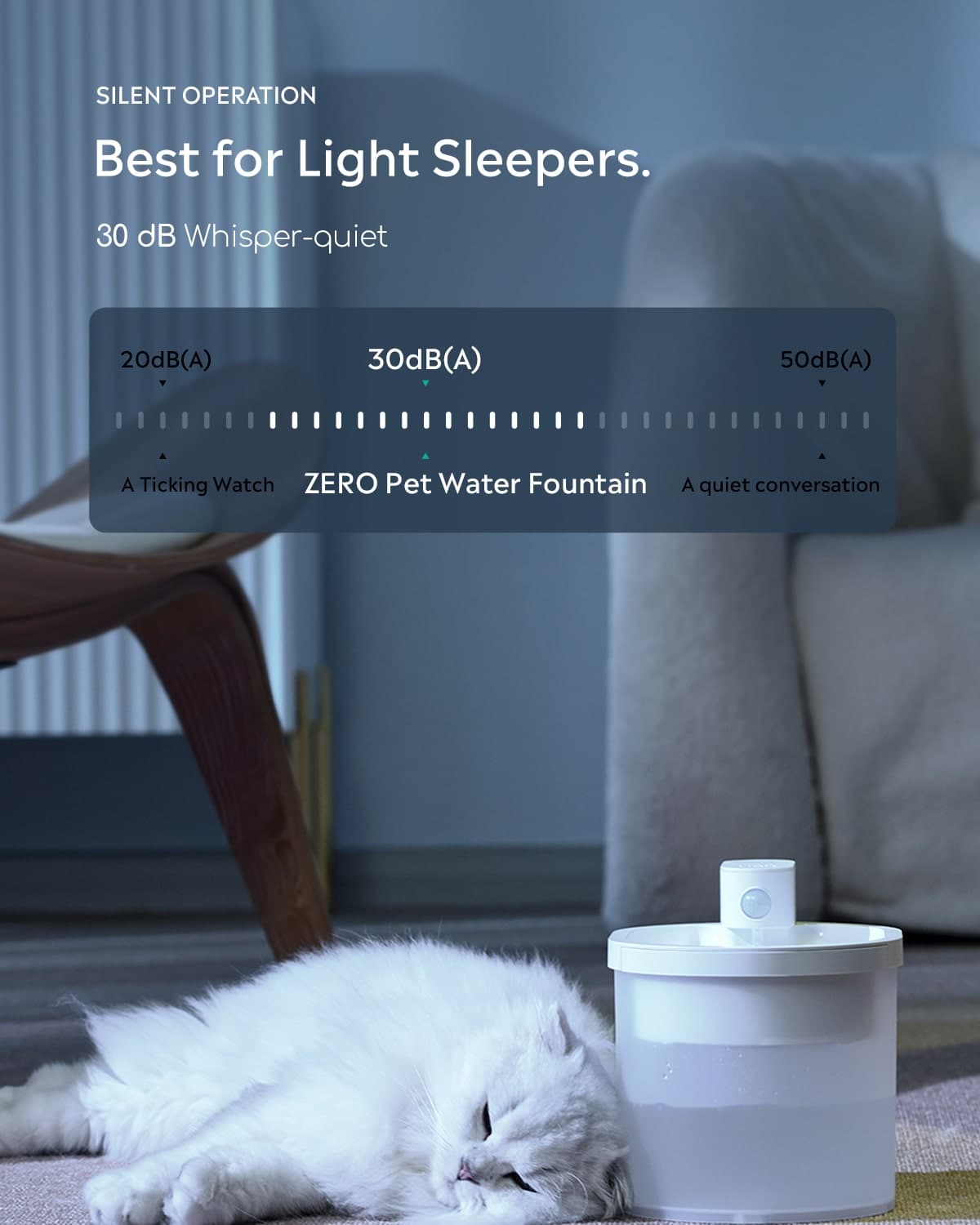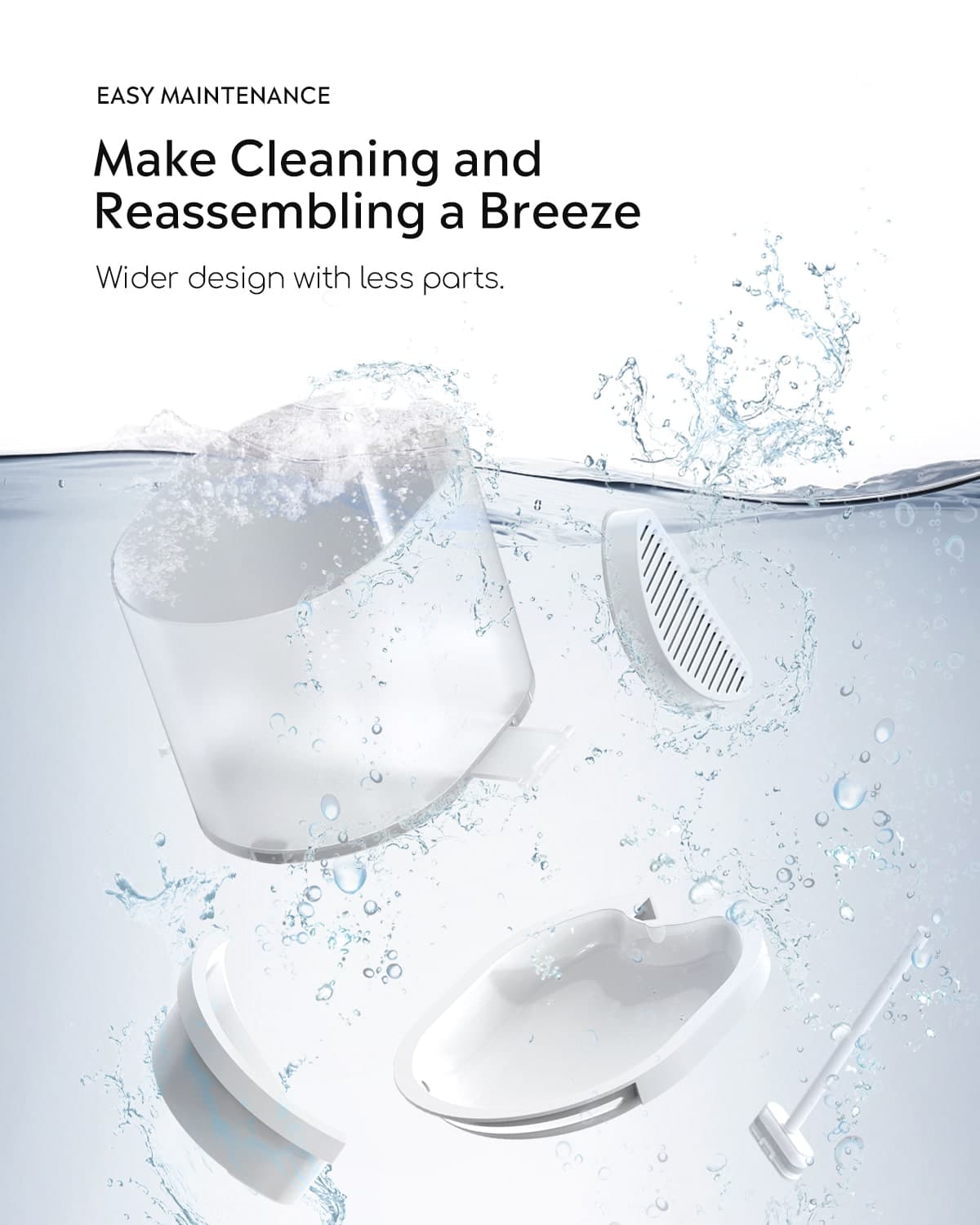 Ultimate Cat Bundle
WHAT'S IN THE BUNDLE
-ZERO Wireless Water Fountain (6 pcs)
-Stainless Steel Wireless Water Fountain (6pcs)
Get 40% OFF with Code:
JINGLE40
Copy
In stock

Wireless & noiseless cat water dispenser 😻
Industry-leading 6-layer filtration🌿
10 days without refilling💦
Safe external water pump🛡️
BPA-free. | Stainless Steel | FDA-certified🥼
Free US Shipping Over $50

HASSEL-FREE REFILL
Simplify pet parenthood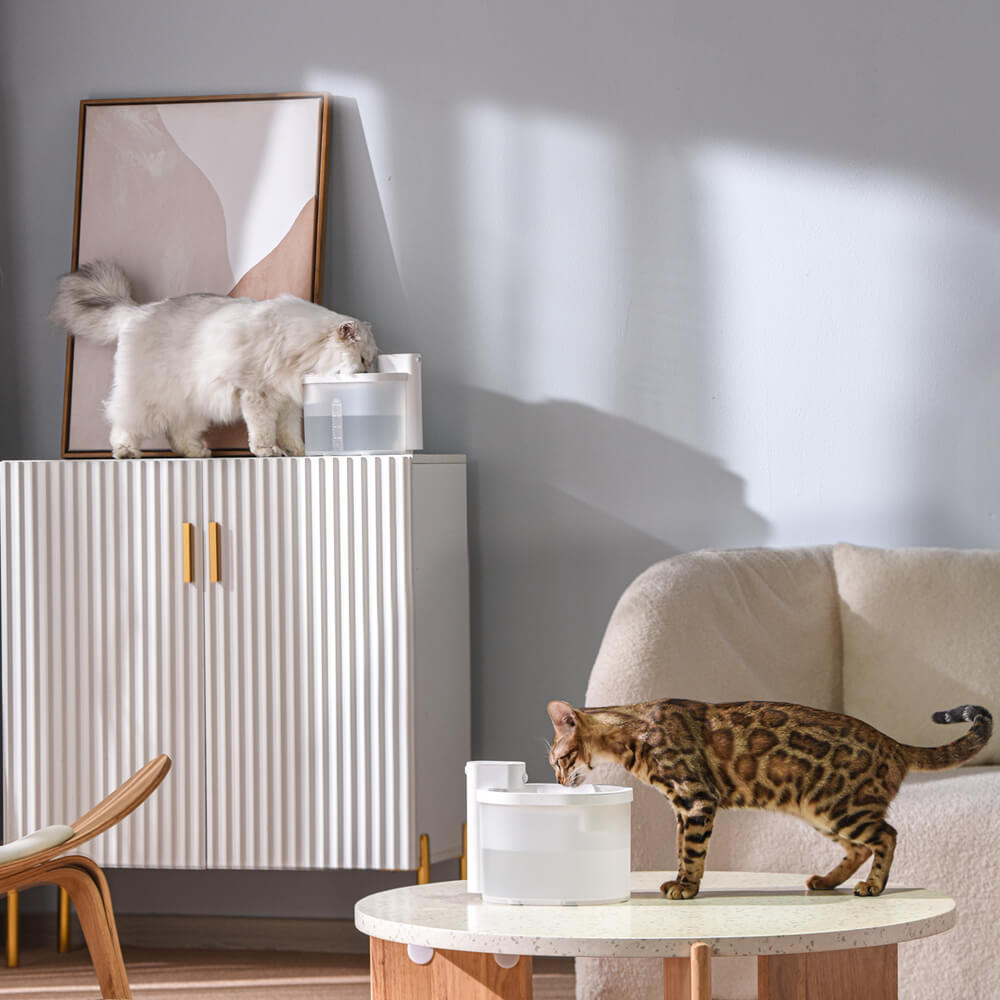 wireless design
Place it anywhere your pets feel comfy drinking water
Thanks to its cordless design, there's no need to be plugged in at the wall. No trip hazards and no dangerous wires for your pet to play with. You can place this battery-operated fountain anywhere your cats feel comfy drinking water. And it's the perfect solution for multi-pet households.
WIRELESS DESIGN
Hydration they need, just the way they like it.
Place it, let them drink from it, and love it—no detached base, truly wireless. So whenever your pets need a sip, our ZERO stainless steel wireless water fountain offers them fresh, pure hydration.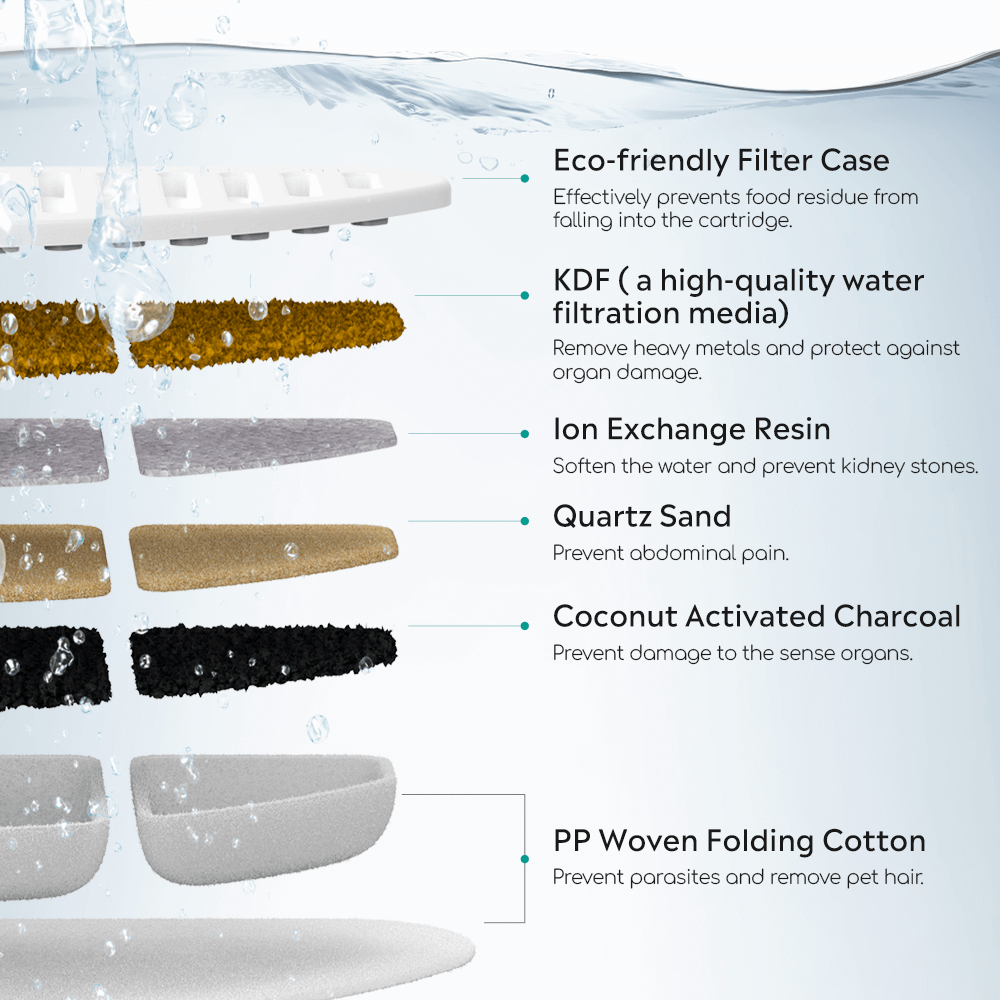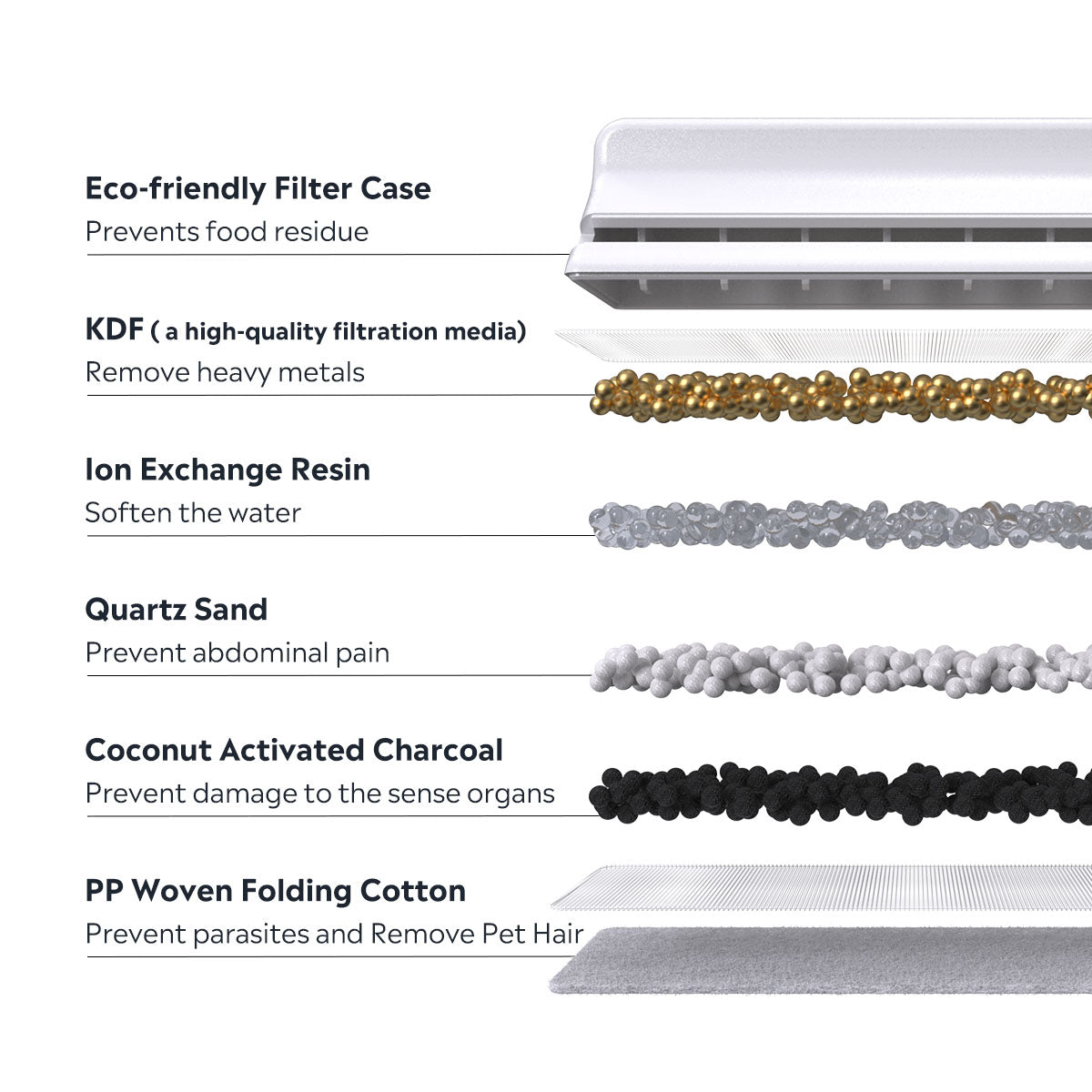 6-level filtration system
Ensure your pets enjoy the cleanest water possible.
Keep your pet safe from urinary diseases. This fountain contains KDF, quartz sand, coconut activated charcoal, and ion exchange resin, so it's perfect for cats and dogs that love to drink fresh-tasting water.
6-level filtration system
Give your pets the freshestsips they deserve.
Safeguard your pet from urinary issues. Packed with KDF, quartz sand, coconut activated charcoal, and ion exchange resin, this fountain is ideal for cats and dogs craving fresh-tasting water. Rest easy, pet parents!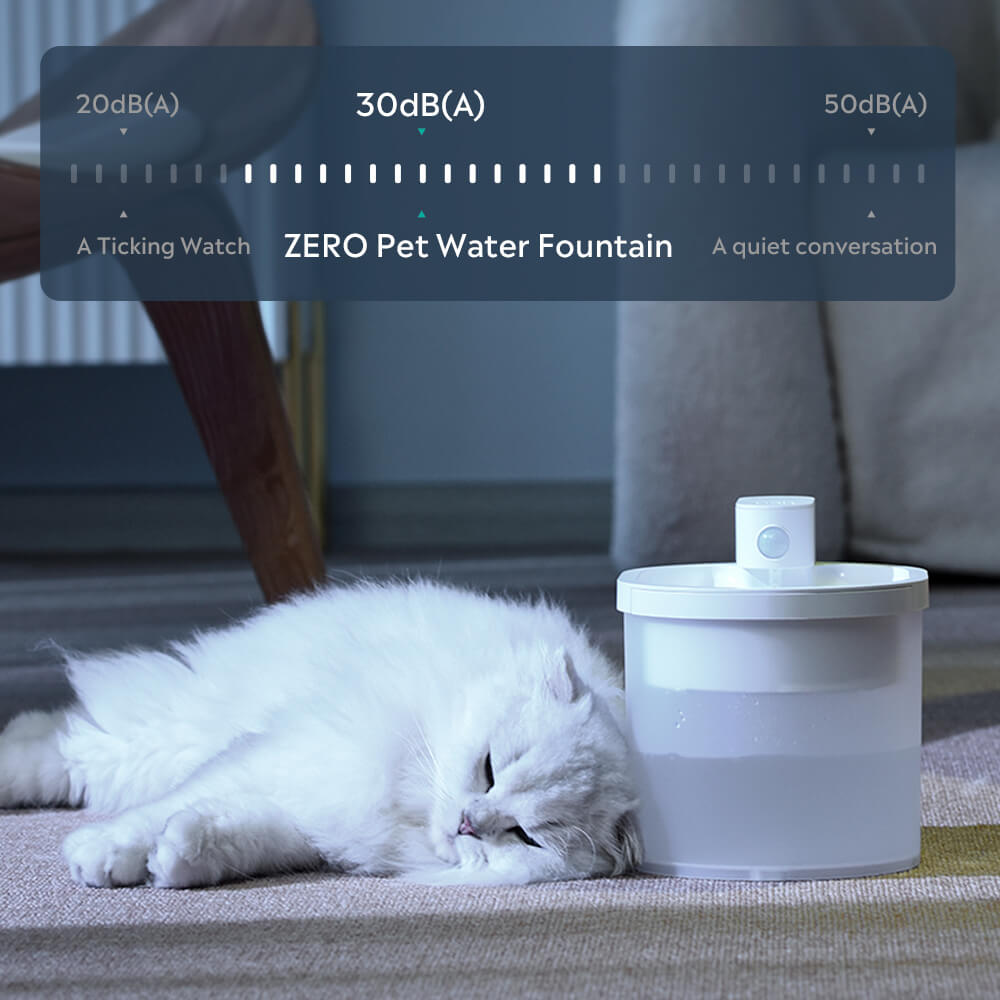 SILENT OPERATION
Best for light sleepers
Say goodbye to the constant whirring of the ordinary drinking fountain. With the ZERO cat water fountain's ultra-quiet performance, you can easily have a sound sleep, and your cat can take all the time he needs to drink his water. Plus, timid cats will never be deterred by the noise again!
WELL-CRAFTED WATER FLOW STRUCTURE
Whisper-quiet, under 30 dB
Designed with thoughtfulness, water gently glides along the inner wall of the bowl, reducing noise to under 30 dB. It seamlessly fits into your home, like a quiet helper. All you'll hear are the soothing purrs of content pets.
WIDER DESIGN, FEWER PARTS
Make cleaning and reassembling a breeze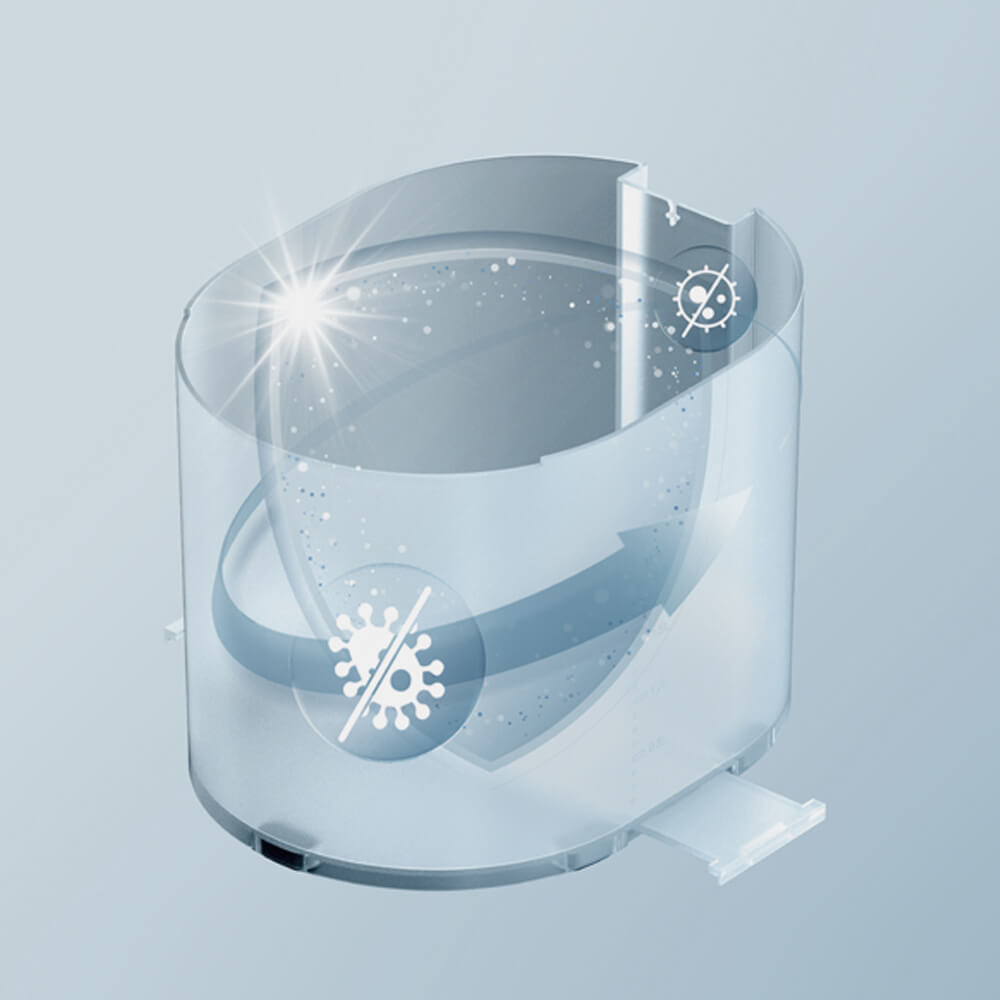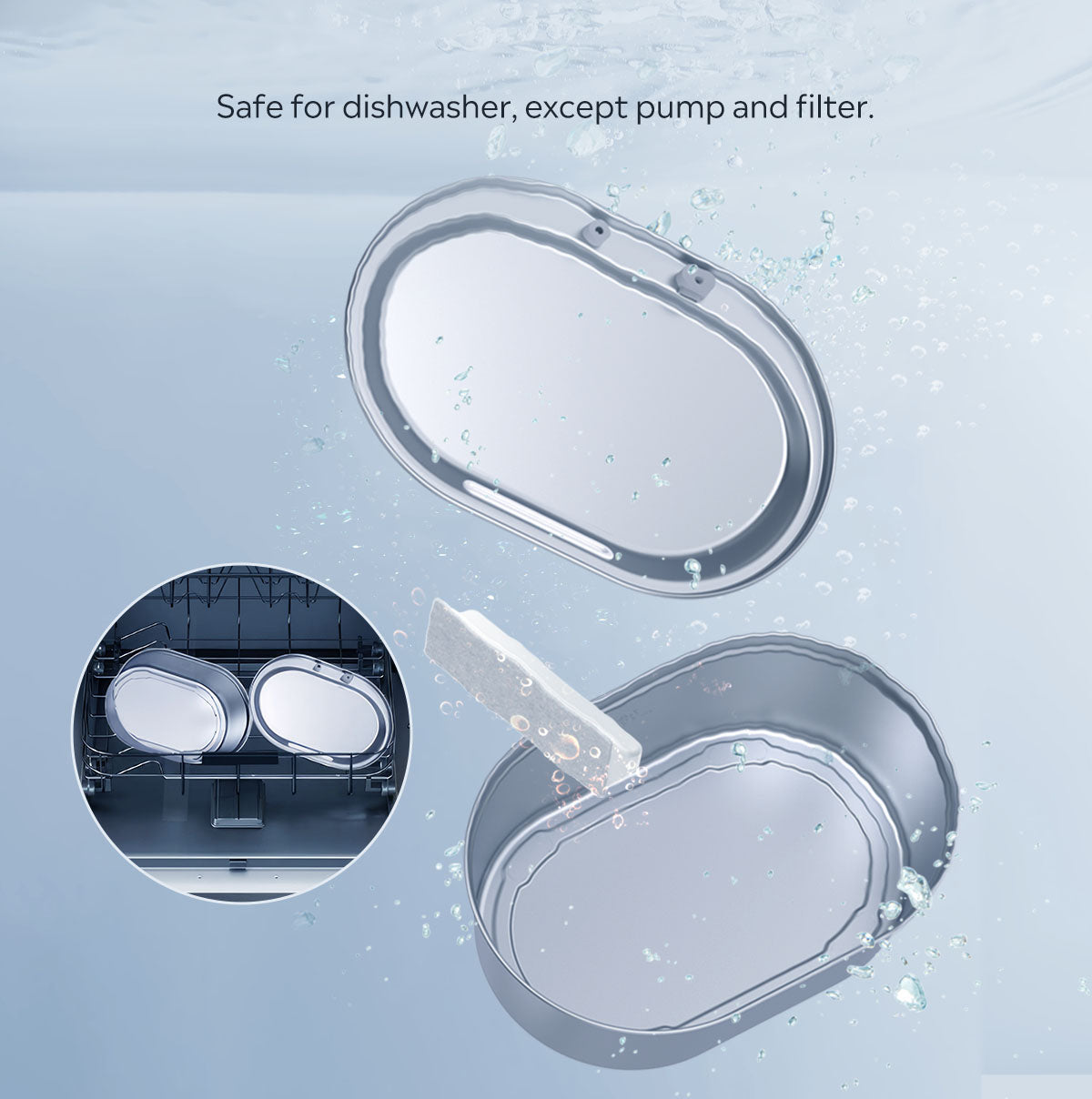 BPA-free material
Antibateria and BPA-free. Preventing dirt buildup to ensure your feline friend has safer drinking water.
304 FOOD-GRADE STAINLESS STEEL
Tougher. Safe for dishwasher
Designed for far greater durability. 304 food-grade stainless steel helps protect against scratches, and everyday wear and tear. Dishwasher safe (except pump and filter), so you can spend less time cleaning and more time bonding.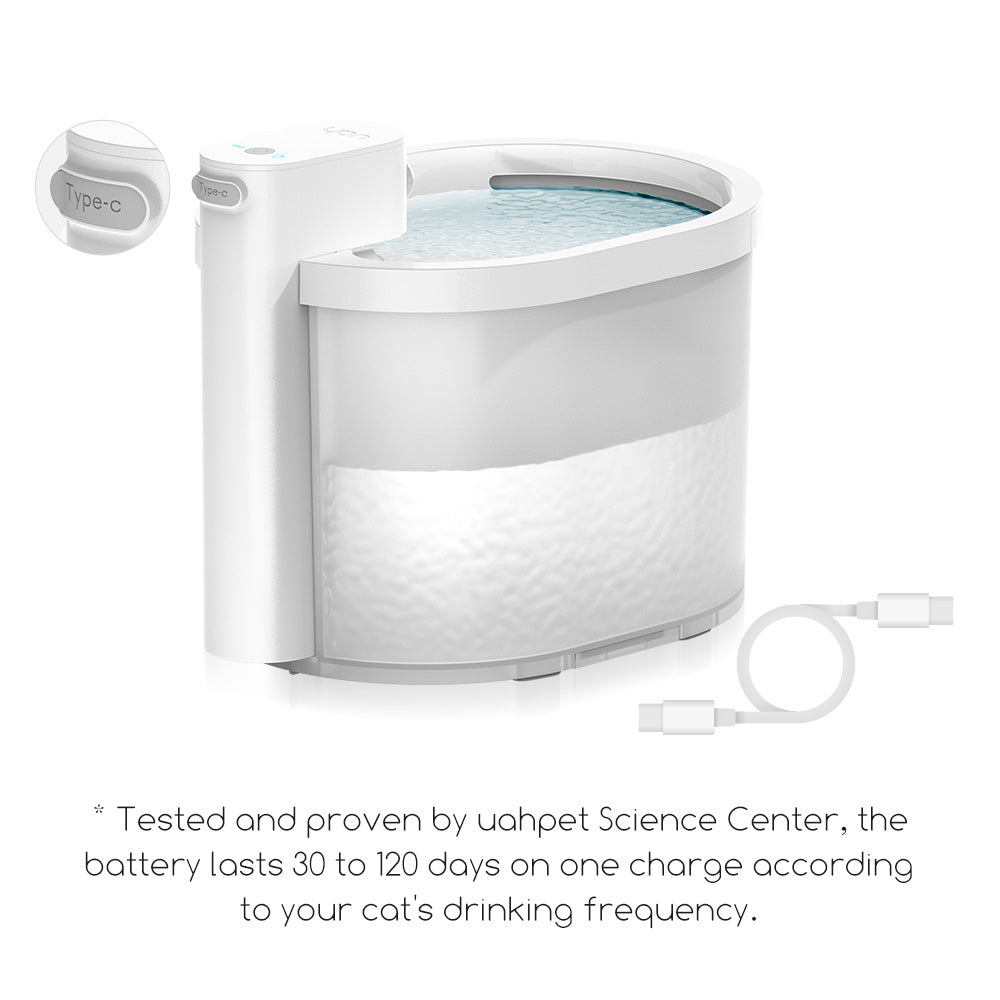 Long-lasting battery
Up to 120 days battery life. Just fill it with water and keep your pets hydrated all day long. (Battery included)
ADVANCED EV BATTERY
Up to 130 Days of Battery Life
It won't ever disappoint your pet. With up to 130 days of battery life on a single charge and rechargeable via Type-C cable, this water fountain is always prepared to keep your pets hydrated whenever they're thirsty.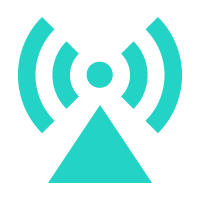 MOTION-ACTIVATED MODE
It can simultaneously run when your pet comes within a 2-meter distance in a 120-degree area.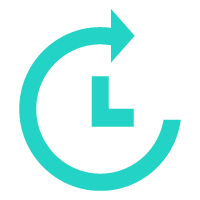 TIMER MODE
It provides your pet with cool, fresh water automatically every 15 minutes.
EXTERNAL WATER PUMP
Designed with security in mind
It's easy to assemble, simple to maintain, and fully leak-proof to help protect your feline friends.
What's in the box?
1 × ZERO wireless Water Fountain (6pcs)
1 x Stainless Steel Water Fountain (6pcs)


More Specifications here: